Eight Mother's Day presents to fill the day with love
1 March 2021
Explore our top eight Mother's Day presents from just £10 - perfect for saying "I love you" this Mother's Day. Why not celebrate with a classic goat gift?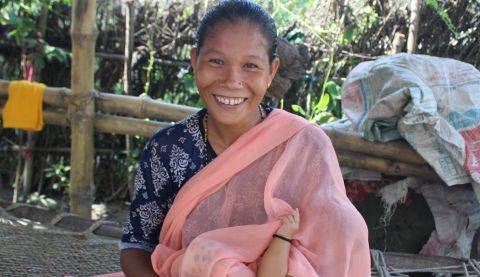 Mother's Day is fast approaching (it's Sunday 14th March!) and there's never been a better time to find a unique present that says a great big "I love you".
We may still be in lockdown, but even if you can't be there, ActionAid's thoughtful Mother's Day presents are sure to fill the day with love. And it couldn't be easier: you can even personalise your greetings card with a special message, and we'll post it directly to the address of your choice.
So get Mother's Day wrapped up today with our top eight presents, from just £10! With each purchase, you'll know you're making an incredible difference to the lives of women and girls living in poverty around the world.
See more Mother's Day presents
Still haven't found what you're looking for? There are lots more Mother's Day presents to discover in our full collection, with gifts to suit every budget. 
From farmyard friends like goats and piglets, to life-changing beekeeping gifts, you're sure to find a gift that will light up your mum's day. After all, she deserves it!
Happy Mother's Day to all the incredible mums out there!
Top image: Ramlal Chaudhary/ActionAid
Read next
8 October 2021

7 July 2021

10 June 2021