Millions face food shortages as drought hits Horn of Africa
16 February 2017
Up to 12 million people across Somalia, Somaliland, Ethiopia and Kenya are in urgent need of food assistance as severe drought has caused a humanitarian crisis. ActionAid is distributing food and water but the situation is critical. In Ethiopia alone more than three million people are acutely malnourished and famine could soon be a reality.​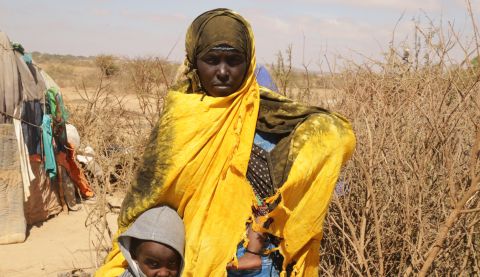 The effects of drought in east Africa
Widespread and repeated drought in the Horn of Africa, exacerbated by El Niño in 2016, has caused harvest after harvest to fail, creating food shortages, depleting livestock and threatening livelihoods. Supplies of seeds and cereals have dwindled, debt is on the rise, and with scarce water sources and pastoral land for grazing animals, milk and meat production is low.
More than 1.6 million people in Somaliland (46% of the population) are in need of some form of humanitarian aid, including Nimo, 35, who fears for the lives of her children, as her cattle – her only source of income - waste away.
I breastfeed my six month-old-son, but he cannot get enough milk as I don't have food.
'Our animals are too weak to make milk or meat and too scraggy to sell in the market,' says Nimo.
Around 80% of livestock has been wiped out in eastern Somaliland and grazing land is all but gone, but the cattle are a lifeline for Nimo's family, so she will go to great lengths to ensure their survival.
Leaving her two-year-old with distant relatives, she bundled up her six-month-old baby and four-year-old son, and walked for eight days in search of water for her livestock. What she found instead was a trail of carcasses: cattle, goats and camels - the backbone of the country's economy.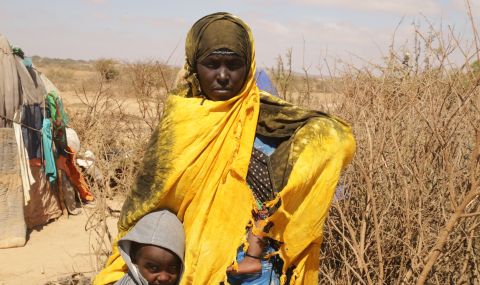 ActionAid is helping people: but we need to do more
ActionAid has helped more than 5,000 people in Somaliand so far, distributing food and water, and blankets for the freezing cold nights, but more support is needed as the drought enters its third year and the situation deteriorates.
"I breastfeed my six month-old-son, but he cannot get enough milk as I don't have food," says Nimo.
As more water sources dry up, we need to act now to stop families like Nimo's from starving. 
Photos by ActionAid.