Celebrity ambassadors and supporters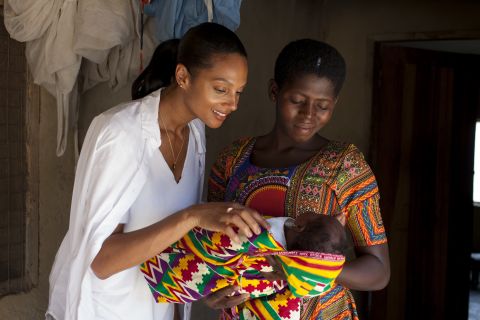 Alesha Dixon
Singer, Britain's Got Talent judge and ActionAid Ambassador Alesha Dixon started supporting ActionAid in 2016 by joining our campaign to end FGM. In 2017, she travelled to Ghana to support our campaign to end child marriage. She met young girls who had been abducted and forced into marriage, and saw ActionAid's work within the community to end this form of violence against girls.
"I was able to see for myself the work ActionAid is doing to help young girls escape from child marriage, by encouraging them to get back to school and regain hope for a better and brighter future," says Alesha.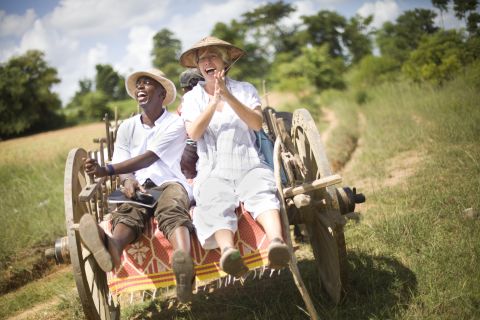 Emma Thompson
Oscar-winning actor and writer Emma Thompson has been an ActionAid Ambassador since 2002, and has travelled to many different countries to see the difference ActionAid is making to the lives of women and girls. She has also supported our campaigns on women's rights and HIV/AIDS.
"I have met a lot of inspirational people and thought: they don't need us to tell them what to do, but they do need our support," Emma says. "Frankly, working with ActionAid has been one of the most inspiring, thrilling gifts of my life."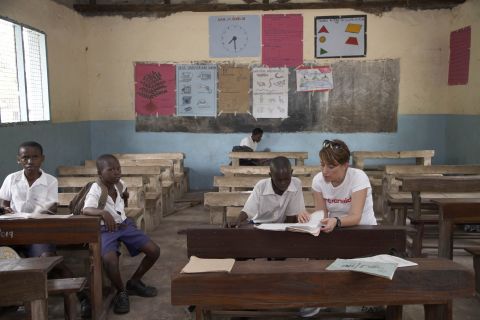 Fay Ripley
Star of ITV's Cold Feet, ActionAid Ambassador Fay Ripley has supported ActionAid since 2008 after she visited Tanzania to see the impact child sponsorship has on children's education. She visited a school where ActionAid had built dormitories for girls who were at risk of abuse on their way to school, to keep them safe from harm and to ensure they got an education.
"Everything about that trip was memorable: from the warm welcome I received, to the incredible work ActionAid was achieving in the villages and schools that I visited," Fay says. "I expected to weep tears of empathy, instead my tears were of admiration."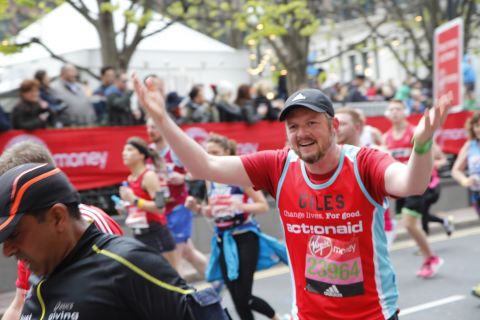 Giles Paley-Phillips
Award-winning children's author Giles Paley-Phillips has supported ActionAid since he saw our work on the refugee crisis in 2015. He ran the London Marathon for ActionAid in 2017 and supported our first Big Me event to raise money in schools. 
For our No Girl Afraid Christmas campaign in 2017, Giles wrote 'The Story of Hope', to raise awareness of the experiences of girls in the Occupied Palestinian Territories.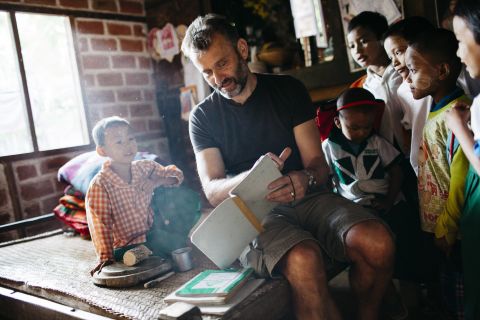 Hugh Dennis
Actor, comedian and ActionAid Ambassador Hugh Dennis has supported us ever since he got his first paycheck over 30 years ago. He visited Myanmar in 2014 where he saw how child sponsorship is helping transform an entire community. He has also raised money for ActionAid by taking part in RideLondon.
"Through ActionAid I've learned how simple things can transform a community," says Hugh. "My support has helped pay for local schools so kids are educated for longer. It's the incredibly simple things that can change lives for good."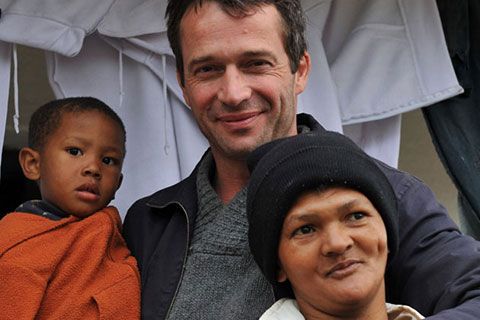 James Purefoy
Actor James Purefoy has been supporting ActionAid for over 18 years. In his role as an Ambassador he has visited ActionAid's work in South Africa, where we support young women at risk of violence. James also lived on just £1 a day for five days as part of our Live Below The Line Challenge.
"When I visited South Africa I saw the appalling conditions that some people are forced to live in. But I've also witnessed the difference that ActionAid makes, working with people to help them create brighter futures for themselves and break away from living in poverty," James says.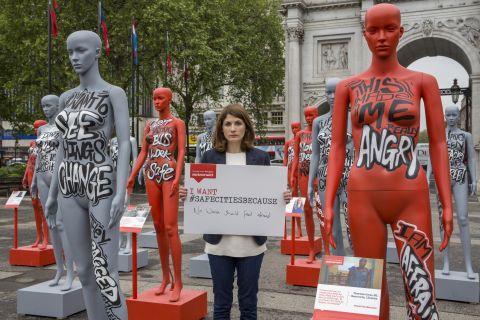 Jodie Whittaker
Jodie Whittaker, an actor and the first female Doctor Who, became an ActionAid Ambassador in 2013. She has sponsored children in Afghanistan ever since and has helped raise awareness of the benefits of child sponsorship. She has also been very supportive of our work ending violence against women and girls, helping to promote our Safe Cities campaign and attending the Survivors' Runway fashion show.
"I have been a proud ActionAid supporter for the past five years and have been involved in lots of their amazing initiatives to shine a light on the many issues affecting women and girls across some of the poorest countries in the world," Jodie says.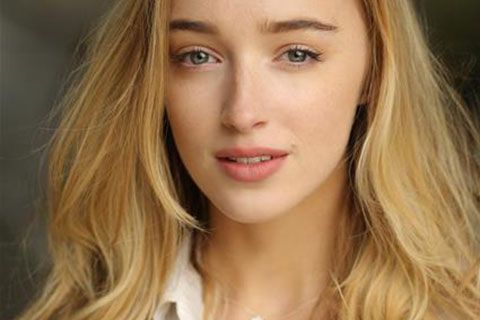 Phoebe Dynevor
Star of Netflix's 'Bridgerton', Phoebe Dynevor has been supporting ActionAid since she was a child, and in 2007 travelled to India to meet the girl she and her family were sponsoring at the time. More recently she has supported our 'She is the Answer' Aid Match appeal as well as our 'Stand with Women', 'Share a better period' and #MyBodyIsMine campaigns and a number of emergency appeals.
"ActionAid is a charity that has been very close to my heart for such a long time, so it is such an honour to be an Ambassador," says Phoebe.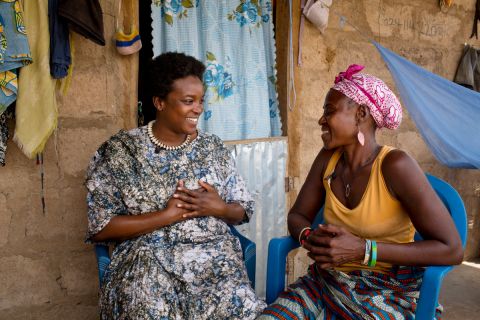 Wunmi Mosaku
BAFTA Award-winning actor Wunmi Mosaku started supporting ActionAid in 2018. A strong advocate for women's rights, Wunmi visited Ghana in March 2019 to meet with survivors of domestic violence and to learn about our work helping them to access the justice they deserve. Wunmi's trip was also a personal journey into her family history.
"I met some incredible women and girls in Ghana, many of whom were victims of terrible violence. Their experiences struck a personal chord for me as I reflected on the story of my grandma - having grown up in Ghana, she fought back against a forced marriage on return to her homeland Nigeria. I want to help enable women and girls to understand their rights and speak out against violence like my grandma did. I can't think of a better way to do that than shine a light on ActionAid UK's life-changing work as a celebrity ambassador."
Andrea Riseborough
Actor Andrea Riseborough is a dedicated supporter of our work on violence against women and girls. She attended the Survivors' Runway fashion show, took part in a celebrity photo shoot in support of our #MyBodyIsMine campaign on International Women's Day 2018 and visited our Maze of Injustice in 2019.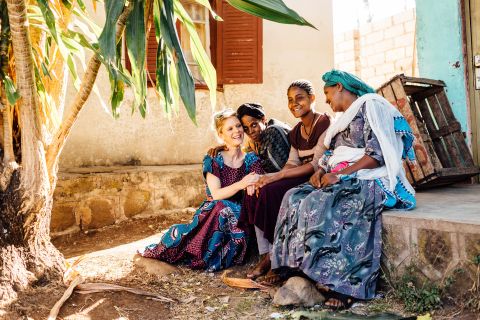 Emilia Fox
Actress Emilia Fox travelled to Ethiopia in 2015 to meet women and girls who are standing up for their rights: the right to education, the right to a life free from female genital mutilation and forced marriage, and the right to earn their own income.
"ActionAid's projects are no quick fix. They are helping women and girls to help themselves – for them, their families and future generations," Emilia says.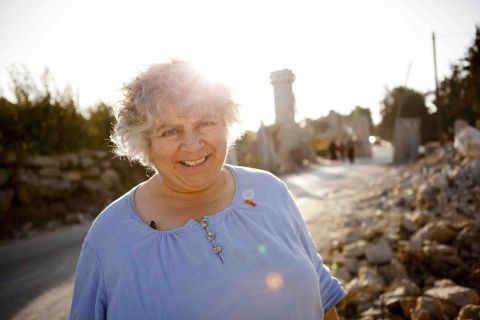 Miriam Margolyes
Stage and screen actor Miriam Margolyes has been supporting ActionAid for over 30 years. She visited our work in the West Bank of the Occupied Palestinian Territories in 2010.
"I've had the joy of sponsoring several children," says Miriam. "A tiny offering from me has made an enormous impact on their life and mine."
Top image: ActionAid supporter Alesha Dixon talks with Mary Lily, a teacher and ActionAid volunteer who helps prevent child marriage in Ghana. Abbie Trayler Smith/ActionAid
Page updated 25 August 2023