Supporter testimonial
Hear from our supporter Linda Marsden on why she is leaving a gift in her Will to ActionAid.
Make your will this November with Will Aid
ActionAid has partnered with Will Aid to give you the chance to have your will professionally drawn up by a qualified solicitor this November.
Instead of paying a solicitor's fee, you are invited to make a voluntary donation which will help fund life changing work around the world. 
All donations made via Will Aid are divided between the nine participating charities – including ActionAid. Use Will Aid's online postcode search to find a solicitor near you, or call them on 0300 0309 558 for details.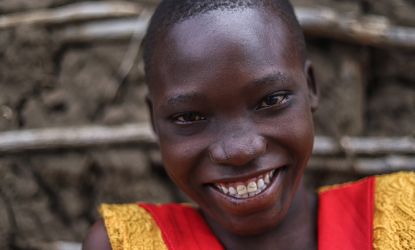 The difference you could make for a girl like Happy
"I love going to school," says 13-year-old Happy, who attends an ActionAid-supported catch-up centre in Kenya, after dropping out of school at a young age. 
"My first day in school I didn't know how to read Kiswahili, but when I went there, I learned how to read Kiswahili." 
Now, Happy looks forward to getting a job and earning enough money to build her parents a house.  
Happy's mum, Nzingo, says she saw a change in Happy when she enrolled in the catch-up centre: "She is happy now; she can read and write, and I am thankful.  
"I expect Happy will get a job and support herself in the future." 
Supporter testimonial
Paula Zoido-Oses, Highgate Middle School, Politics teacher:
"Ending sexism and sexual violence against girls and women is something that Highgate pupils feel very strongly about, and so voted to support ActionAid.
It is a great cause and the fundraising team offer fantastic support and communication throughout. We look forward to raising more funds for Action Aid in the near future."
Get in touch today to get your school involved!
Poe, Kali, Nay Blute, (right to left) in front of school after their classes in Myanmar. Natasha Mulder/ActionAid
Page updated 27 September 2022