Why we work in Brazil
With a population of over 200 million, Brazil is the largest country in South America. A rising economic power, in recent years Brazil's government has helped millions out of poverty by creating jobs and providing social welfare.
94.4% of children between seven and 14 now go to school. The proportion of young people in secondary education has doubled in the last 20 years and more and more adults and young people can read and write.
But, as the economy grows, the divide between rich and poor is widening. The richest 10% of Brazil's population earn nearly half (43.5%) of the nation's income.2
A third of the population of Rio de Janeiro and Sao Paulo live in favelas, or slums. Poverty forces many young people into drug-related crime. Schools often shut down and parents are too afraid to let their children play outside.
Women's rights in Brazil
Whether you live in the city or countryside, Brazil is an especially dangerous place to be a woman. A fifth of Brazilian women have suffered some kind of violence by men; a woman is beaten by a man in Brazil every 15 seconds.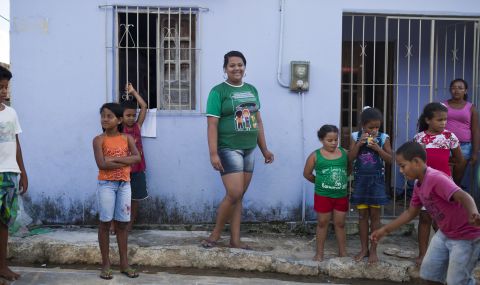 What we do in Brazil
Educating children in the slums 
ActionAid supports community projects to keep children off the streets and out of drug gangs. Thousands of children and their families attend our classes, enjoy cookery, music and sport, and receive extra tuition to ensure they can finish their education.
Protecting girls from sexual exploitation
Each year, tens of thousands of migrant workers flock to Pernambuco state, in northeast Brazil where there is large-scale prostitution. Poverty is driving girls as young as 12 to work as prostitutes to earn a living. 
Through a mixture of therapy and education, ActionAid is helping girls to learn their rights and discover the self-confidence to say no to sexual exploitation. Empowered, these girls are going on to raise awareness and galvanise their communities to find other ways to make money.
Coping with drought
When faced with drought, the lives and livelihoods of entire communities are at stake. ActionAid supports families living in drought prone areas to grow food, keep animals and protect their environment.
By installing rainwater collection tanks, showing communities how to make natural fertiliser and providing seeds and fruit tree seedlings ActionAid is helping communities become more resilient in the face of drought.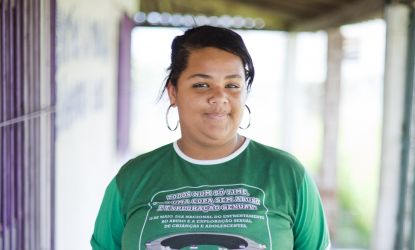 Carla is a youth leader in her community
Carla, 15, lives in Cabo, one of the most violent communities in Pernambuco, where the risk of sexual exploitation for young girls is very high. ActionAid's empowerment classes have helped Carla – and now she's working as a youth leader to help other girls in her community.
"I used to feel really sad and really tired and had a lot happening in my daily life," Carla said. "The therapy sessions have helped us to open up about the things that hurt us.
"At the project we have discussions and seminars, which help us to spread our knowledge throughout our community. This helps us to help other girls our age."
Learn more about our work ending violence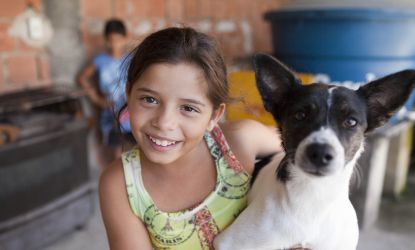 Samira is determined to stay in school
13-year-old Samira lives in Maré favela, which suffers from serious drug-related violence. Thanks to ActionAid and a local partner she can borrow books from a local library and takes part in after-school classes.
"In the favela teenagers have a tough time," Samira explains. "Many girls my age date drug traffickers and they don't allow girls to study. My mother doesn't let me go out on my own because it's too dangerous. There are 50 kids in my class. Often we have to leave early because there aren't any teachers."
ActionAid provides a lifeline for children like Samira to escape the challenges of the slums. Through a local partner organisation we support thousands of women and children to attend classes in languages, art, dance, music, cookery and sport.
Sponsor a child like Samira
Page updated 3 March 2023