Why we work in Ethiopia
Ethiopia's economy is one of the fastest growing in the world, but the long-term effects of civil war, drought and famine in the 1970s and 1980s mean that almost two thirds of Ethiopians are illiterate and 2.8 million children are not in school. Most of these children are girls living in rural areas and children with disabilities.
A series of failed rainy seasons caused by El Niño resulted in the worst drought in Ethiopia in 30 years in 2017. Over 10 million people were in need of emergency assistance.
Women's rights in Ethiopia
In Ethiopia three out of four people make a living through farming.1 Nearly half of these farmers are women, who are often denied the right to own or inherit land because of their gender.  
Female genital mutilation, a brutal practice which can cause death and countless health complications, is common. Girls are taken out of school, and once they are cut, they are often then forced into early marriage. 
What we do in Ethiopia
In Ethiopia, ActionAid helps women to set up savings and credit cooperatives. We train women to keep bees, rear animals, grow vegetables and start weaving businesses. We also provide women with information on their inheritance and property rights so they can claim what is rightfully theirs.
ActionAid trains women to recognise, prevent and report all forms of violence against women and girls. Members of our Women's Watch Groups learn about their rights, and feel more confident about reporting cases of child marriage and female genital mutilation (FGM) as a result. 
We also support girls' access to education. We work with parent-and-teacher associations and local governments to renovate schools destroyed in recent wars. We have installed clean water facilities, separate toilets for girls and boys and supplied schools with library books and teaching resources. 
Our work with pre-school children has also helped to change attitudes towards girls' education. In Amhara Region in northern Ethiopia, we built several pre-schools and trained teachers in early childhood development. This work has been endorsed by the Ethiopian government, who have opened a further 40 pre-schools across the state in the last two years.
Responding to the Covid-19 pandemic
ActionAid at least 3,500 people in Ethiopia as part of our emergency coronavirus response. This included the distribution of vital hygiene packs for vulnerable groups, containing soap, hand sanitisers, facemasks and protective gloves. 
As a country with high levels of poverty, and fragile health systems, there were concerns the country could quickly become overwhelmed by the pandemic, putting additional pressure on women and girls and those living in poverty. 
Alongside essentials kits, containing menstrual products and hygiene items, and PPE for frontline workers, we worked to build the capacity of local women leaders to help prevent gender-based violence and strengthen women's empowerment. 
Humanitarian crisis in Southern Tigray 2022
ActionAid has been responding to the crisis in Ethiopia's Tigray region, where communities faced severe food shortages, conflict and widespread violence against women and girls.
We have been supporting people whose lives and livelihoods are being devastated by ongoing conflict, the climate crisis and desert locust swarms. More than 18,000 people have received food support and dignity kits from ActionAid, including toiletries and hygiene products for women and girls.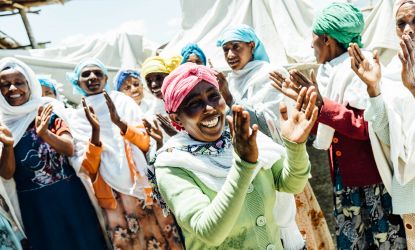 Women's economic independence in Ethiopia
Gete Haile chairs a savings and credit group in Girar Jarso, in the Shewa region, central Ethiopia. After receiving training and a small loan from ActionAid, she bought two cows. Today her business has grown to include six cows that produce 35 litres of milk a day.
Not only is Gete's business self-sustaining, it has inspired other women to become independent too. As leader of the credit group, Gete is responsible for looking after 300,000 birr (£9,000) in savings to be used by women for local projects.
"It's important that the cooperative is run by women. Before we had to depend on our husbands for any income," she says. "Now thanks to the cooperative and the loans, we are able to earn our own income and be economically independent." 
Donate to help support our work in Ethiopia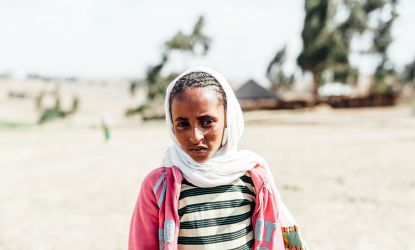 Helping girls go to school
When 12-year-old Chuchu fell ill, she had to drop out of school. "Now, I spend my days helping my mother with work, feeding the cows, selling the milk at the market, and cleaning around the house," she said.
ActionAid is supporting a new school in her community, which will enable her to continue her education and improve her opportunities for the future.
Birhane Kenenies, a teacher in the community said: "It is especially important for girls to go to school because when they drop out they often get married.
When they attend school they gain confidence and we can educate them about their rights and equality."
Sponsor a child like Chuchu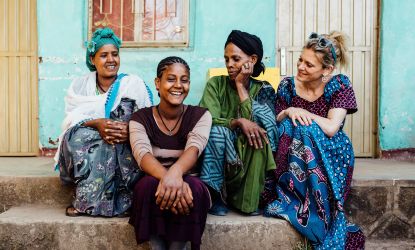 Stopping child marriage
When she was 13, Asegedech stood up to her father when he tried to arrange her marriage to a man she didn't know.
With the help of a Child Protection Club and the local Women's Watch Group she helped her father to understand that early marriage is against the law. 
Asegedech also plucked up the courage to talk to him about how important staying in school was to her. She hopes to become a lawyer when she's older.
Find out more about how we fight for girls' rights
Top image: Six year-old Ture Feyisa carries her 6-month old baby sister on her back, standing next to her mother Boge Abera, 25, outside their village in Shewa region, Ethiopia. Greg Funnell/ActionAid
Page updated 3 March 2023