Area of expenditure
(£m)
%

 

Humanitarian and development programmes and strengthening our global federation
33.7
67%

 

Fundraising

9.1

20%

 

Support costs (running the organisation)
4.9
10%

 

Campaigning for change
1.4
3%
Total
49.1
100%
What you helped us achieve in 2020
Every day we hear incredible stories of how the lives of women and girls are changing for the better.
With your support in 2020, our work has helped to transform lives - whether that's by helping to alleviate period poverty, distributing life-saving aid in emergencies such as during the ongoing Coronavirus pandemic, or training women and girls with skills that help lift them out of poverty. 
Here are just a few examples of how your donations helped the most vulnerable women and girls in 2020.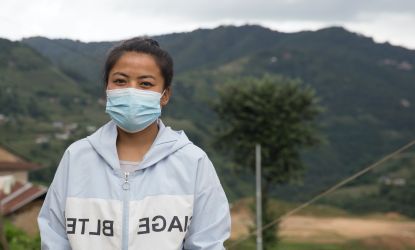 We supported over 9 million people through our Covid-19 emergency response
ActionAid implemented a federation-wide response to Covid-19 with the goal to support communities in 38 countries.
Between April and September 2020 we distributed over 1,400,000 hygiene kits, hand sanitisers, soaps or handwashing facilities, along with more than 340,000 units of PPE. 
We have reached millions of people across four continents with our awareness-raising activities, designed to stop the spread of dangerous misinformation about Covid-19.  
Kathmandu-based Nabina Gurung, 21, has been volunteering with ActionAid Nepal and their local partner, Homenet Nepal, for more than a year, distributing essential items for daily wage workers and those in financial difficulty.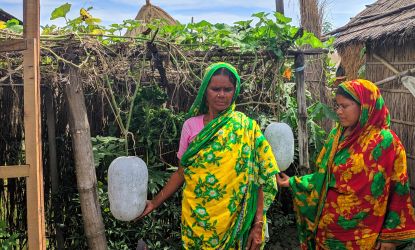 Reducing unpaid care work for women
2020 saw the conclusion of ActionAid's flagship five-year Promoting Opportunities for Women's Empowerment and Rights (POWER) project.
Reaching over 19,500 women in Rwanda, Ghana, Bangladesh, POWER helped reduce the burdens of unpaid care work on women and supported a more equal redistribution of work between household members.
Through POWER, smallholder women farmers expanded the use of climate-resilient farming practices, and women's access to markets has significantly improved through skills training and knowledge sharing.
We reached more than 250,000 Rohingya refugees living in Cox's Bazar, Bangladesh
Since the outbreak of violence in Myanmar in 2017, an estimated 745,000 Rohingya people have fled to Bangladesh. 
We have provided life-saving humanitarian aid to thousands of refugees, including food, safe drinking water, and shelter. 
We've also set up safe spaces for women in emergencies.  Women and especially mothers have very specific needs, and this is never more evident than during a humanitarian disaster.
That's why ActionAid has built six Women's Safe Spaces in Cox's Bazar – centres where mothers can breastfeed in private, receive hygiene kits, emotional support, and where needed access medical referrals. 
Top image: Hibaq has been living in an IDP in an IDP camp in Somaliland with their mother, sister Nimco, brother and grandmother since 2017. Karin Schermbrucker/ActionAid.
Page updated 30 November 2021