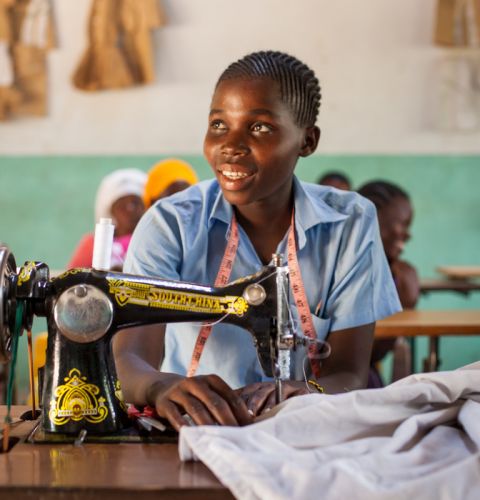 Charity gifts and cards: help and support
Need help or support with your Gifts in Action or Christmas cards purchase? Please see our frequently asked questions below, email us at supportercontact@actionaid.org, or simply call our friendly supporter contact team on 01460 238 000.  
Our lines are open Monday to Friday, 9am to 5.30pm. We would be happy to take your order over the phone or answer any further questions you may have.
Frequently asked questions
What are the delivery costs of Christmas cards?
Delivery costs are: 
£3.99 for 1 pack
£4.99 for 2-7 packs
£5.99 for 8+ packs.
What are the delivery costs of charity gifts?
Delivery of charity gifts is absolutely free!
Can you deliver my gift directly to the recipient?
Yes! If you choose a printed greetings card, we will ask you to specify the address you'd like us to deliver the gift to. We could send it directly to the recipient, or to your own address. Delivery is absolutely free.
Can you deliver Gifts in Action abroad?
Yes, we can deliver your Gift in Action either in the UK or overseas, for free.
How long does delivery take?
If you choose a printed card at checkout, your order should be with you within five working days of the order. 
If you are having a gift delivered in the UK and it's more than 10 working days since your order, please call us on 01460 238 000 and we'll investigate. In the case of overseas delivery, please contact us on the same number if your gift does not arrive within 12 working days. 
If you choose an e-card, we will send the e-card to the email address of your choice on the date specified, and if you choose a printable PDF, it will be available to download immediately after ordering. 
Have the prices of your charity gifts changed?
In a world that has become so connected, conflicts and crises can have far-reaching consequences – often for individuals and communities already struggling to make ends meet. So the costs you'll see may have changed - they are are an accurate reflection of the prices of items in countries across the world. These are calculated using real costs from our teams working with communities, so they can vary year-on-year. 
Can I return my gift?
We hope you won't be disappointed with your purchase, but if you're not happy with your gift or it arrives damaged, please call 01460 238 000 to arrange a refund or replacement.
What are the options for adding a card?
There are four different options available for personalising your gift and adding a greetings card.
Where does the money go?
Your generous gift will fund one of ActionAid's life-changing projects around the world to save lives in emergencies, and support women and girls to create the future they want.
What is Gift Aid, and should I add it?
If you're a UK tax payer, you can enable ActionAid to claim vital extra funds from the UK Government. It won't cost you a penny, but ActionAid will receive an additional 25 pence for every £1 you donate. 
Even better, once you've signed up, we can claim Gift Aid on any gifts you've made in the past four years and any you make in the future. 
Your donation qualifies for Gift Aid if you have paid UK Income and/or Capital Gains Tax during that year. The amount of tax you pay must be at least equal to the value of Gift Aid we will claim on your donation(s). 
All Gift Aid funds we claim will be used wherever the need is greatest - giving us the greatest flexibility to reach those who need our help most. 
So please do sign up for Gift Aid when you buy your Gifts in Action. And should your circumstances change, please contact us to let us know that you no longer pay tax or capital gains tax on your savings. You can call us on 01460 238 000 (lines open Monday to Friday, 9am-5.30pm) or email us at supportercontact@actionaid.org.
Are animal gifts ethical?
This is a really important question, and one we take very seriously. All of our animal gifts fund our livestock projects in Burundi, helping to ensure food and financial security for women and their families.
In Burundi, a lack of quality soil has made it difficult for families to grow crops, but goats and pigs produce high-quality manure, so they help families to improve their crops and bring food security to their community. 
Small-scale agriculture and livestock farming is an important way of life here, and can mean the difference between extreme poverty and sustainable lifestyles, so these animals provide a vital lifeline to people who are often denied even their most basic rights. 
We take a very responsible attitude towards animal husbandry and welfare. We work with animal associations to ensure that our programmes are implemented in line with legal regulations of animal welfare. We find that the communities with which we work with are so grateful for their animals that they make every effort to look after them in a humane way in which the animals are not exploited. 
And, as ever, we work to support sustainable agriculture and agroecology, as an alternative to environmentally-harmful, industrial agriculture, to ensure food security and enhance people's resilience to climate change.
Please don't hesitate to contact us via supportercontact@actionaid.org or 01460 238000 if you have any additional questions.
 
What does it mean to 'Top up' my gift?
If you'd like to, you can top up your gift with an optional donation.
We would be so grateful for your donation, which will help fund our life-changing work supporting women and girls around the world, wherever the need is greatest.
What does it mean to 'Make my donation flexible'?
If you choose to, you can make your donation flexible, so it can fund any of ActionAid's vital work around the world.
This means that rather than funding a specific project (like, for example, our livestock projects in Burundi) your donation could be used across any of ActionAid's work around the world, wherever the need is greatest. 
Share this
Young women supported by ActionAid's projects in Kilifi County, Kenya. Sheldon Moultrie/ActionAid
Page updated 30 August 2023