Why we work in Liberia
Liberia experienced a 14 year long civil war, ending in 2003, in which 200,000 people died: approximately one person in every 20. Around a third of the population was forced from their homes.
The conflict left the country in economic ruin. More than 40,000 fighters - including 15,000 children - needed to be disarmed and reintegrated into society.
Liberia was recovering and rebuilding from this long conflict when the largest Ebola outbreak - since the discovery of the virus- struck West Africa in 2014, killing almost 5,000 people.1
Now, although the outbreak is over, the impact of Ebola continues. Health services have been hit hard, and schools are working to accommodate students who were forced to miss a year of school during the outbreak. Years of progress were lost as economies and markets slowed down, leaving the poor even poorer.
What we do in Liberia
Our child sponsorship programme in Liberia helps to support families as well as funding programmes so that Liberians can rebuild their country. 
We run youth social and economic reintegration programme enables former child soldiers to gain abilities and tools they can use to make a living. They can learn basic skills in carpentry, masonry, agriculture, vegetable production or animal husbandry.
To tackle Ebola, ActionAid Liberia focused on supporting schools and communities with Ebola prevention and control kits. With our local partners, we provided psychosocial support to women, girls orphans and vulnerable children in 45 communities. 
We also helped over 2,300 women, young people and women with disabilities to recover their livelihoods. This included soap making projects, and a women's saving loan to help other vulnerable women within the communities.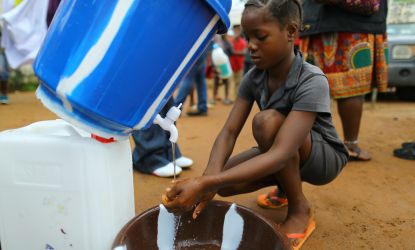 Helping to stop the spread of Ebola
ActionAid was one of the first international agencies to respond to the Ebola crisis. 
The Ebola virus is found in the blood, body fluids or organs of a person or animal who is infected. By distributing Ebola prevention and control kits, which included disinfectants, safety gear and hand washing stations, we were able to help prevent the spread of the virus. We trained 475 community members to maintain and repair the hand washing stations.
We provided information and support on water sanitation and hygiene in schools, reaching over 3,000 people with information on good hygiene practices and sexual reproductive health and rights.
Learn more about our response to the Ebola crisis in West Africa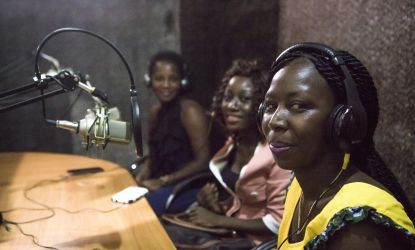 Tackling violence against women in Liberia
Leona Gomo is the head of Women Speak, a group set up in 2012 at the United Methodist University in Monrovia that now covers seven universities in Liberia. These groups speak out and support one another on issues that concern them, from sexual harassment to the right to wear what they want.
Leona says: "Because of our group, men now think twice about violating us and our rights. Some men call me 'The Iron Lady' because of the work I do on women's rights, but I don't care."
Women Speak hosts a talk show on national radio to discuss women's rights, supported by ActionAid. They discuss issues affecting women on campus and call out incidents of harassment and intimidation. Leona says they're making good progress on changing people's behaviour:
"I think the men who want to sexually harass women know that they will be found out because of our group and their abuse won't be hidden. This has made a very big difference."
Read more about our work to end violence against women
Top image: Awareness raising and hand-washing demonstration to stop the spread of Ebola in Monrovia, Liberia. Morgana Wingard/ActionAid
Page updated 6 March 2023