What we do in Indonesia
Supporting the building of safe schools
Our safe schools programme in Indonesia ensures schools are built to code and that they provide a secure and stable environment for students.
ActionAid-YAPPIKA supports local communities to lobby their local governments to allocate a budget for school repairs. We also train schools and their neighbouring communities to improve their technical knowledge, so that they can play an informed and active role in the renovation of their schools. 
In recent years, 27 schools have been repaired with funds and support from the government along with donations. ActionAid plans to renovate over 1,300 classrooms and to empower 82 other school communities so that 17,000 primary school children can attend school safely.
Tackling gender inequality
The Covid-19 pandemic has exacerbated already existing gender inequality in Indonesia. Unpaid care work and domestic violence cases against women have increased and access to health, education, and support have been hampered4 .
We work with women's groups and other civil society organisations to raise awareness about gender inequality in 50 districts.
We train women in leadership skills and strengthen their ability to influence public policy. We also help strengthen local networks so they can share knowledge, and campaign for access and better services for women. 
Responding to and building resilience to disasters
Our local staff provided immediate humanitarian relief during the Indonesian earthquake and tsunami of 2018.
In the immediate aftermath of the disaster, we reached out to 60,000 people with emergency aid including tents, tarpaulins, blankets to shelter families who lost their homes, and essentials like food, water, clothing, and nappies.
We set up public, community kitchens in the worst-hit areas to provide hot food for thousands of people a day and opened three women-friendly spaces for women to meet and identify their needs. 
We support women groups to develop skills to pursue income-generating activities such as fishing, food processing, and marketing to help women earn income to meet basic needs.
We also provide long-term support to help rebuild communities and strengthen their resilience to future disasters. 
We do this in several ways. 
We help increase community resilience by helping them recover from the impact of humanitarian disasters.
We help establish community-owned disaster preparedness plans. We ensure that aid and disaster prevention programs are women-led as they know their communities best.
We provide support for communities to campaign and advocate for reducing disaster risk with their governments.
We conduct research and provide evidence of community involvement to influence national policies in disaster management.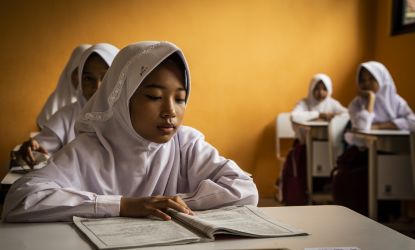 Providing safe schools
ActionAid works closely with schools and communities to help provide safer environments for study. 
A large number of primary school children in publicly-funded schools are studying in hazardous conditions. Children are usually faced with ramshackle classrooms with unsound walls, leaking roofs and unstable flooring.
Our work involves analysing the education budget, conducting surveys, and making accurate measurements to determine the level of damage to the school buildings, and working with communities to build a roadmap for the coming years. 
We help local people to lobby their governments for school budgets and we train them so they can oversee the management of repairs. 
Read about our work supporting girls' education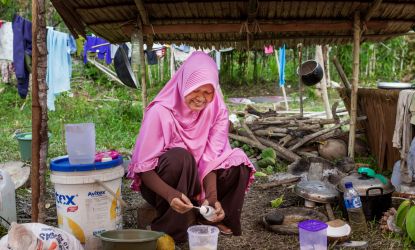 The impact of the 2018 tsunami on women and children
Wahida's family home was destroyed by the earthquake and tsunami. She had to move to a coconut farm which was turned into a shelter for displaced people.
There were limited supplies for pregnant women and new mothers during the crisis. People were getting ill due to poor nutrition and unfiltered drinking water. 
Wahida's supplies of food, water, and formula milk were running low. ActionAid was quick to respond by distributing relief materials including bottles of water, nappies, blankets, underwear, sanitary napkins, baby powder, baby clothes, and baby mosquito nets to mothers and pregnant women. 
Read more about our response to the Indonesian tsunami
Footnotes
1https://www.unicef.org/indonesia/coronavirus/reports/policy-brief-covid-19-impact-poverty-mobility-indonesia
2https://www.actionaid.ch/app/uploads/2019/09/Case-for-support_SafeSchool_eng.pdf
3https://www.hrw.org/world-report/2021/country-chapters/indonesia#d91ede
4https://theconversation.com/indonesias-rise-in-domestic-violence-during-the-covid-19-pandemic-why-it-happens-and-how-to-seek-help-142032
Top image: Girls from ActionAid's safe school programme in Serang, Indonesia. Alessandro Serrano/ActionAid