Why we work in Thailand
Women hold an important role in the family and community in Thailand but there is also widespread discrimination against women and girls such as sexual harassment in public spaces including public transport.
Women living on the margins of society have little information and access to their rights such as land and inheritance rights. 
Provision and quality of education is also uneven in Thailand. Girls' education is still a challenge, where the poorest girls have limited access to education.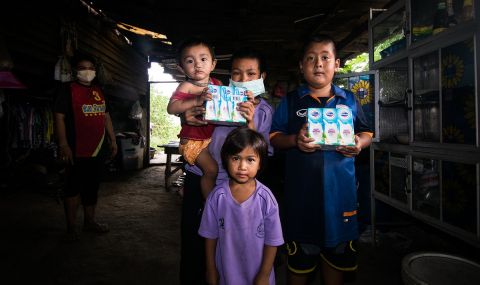 What we do in Thailand
Access to education
The quality of education provided by the Thai government is inconsistent. Due to limited number of students per school in the rural and remote areas, the government is merging and closing 7,000 small schools all over the country affecting many children, their families and communities.
Small schools are schools with less than 120 children and largely service the communities in rural and remote areas. Closing them down affects the access to education for the poorest in Thailand's rural communities. More small schools are under threat of closure by the government.
ActionAid Thailand is working with local organisations to influence the change to government policy around the closure of small schools. We are also working to improve the quality of education in small schools and increasing the capacity of teachers. 
ActionAid Thailand works closely with the Small Schools Network to develop a small school model that focuses on participation of communities in school management, development of a curriculum tailored to small schools, and training on a small budget. We are also developing a book to share our learning on small school models and to generate awareness and support from the public.
Strengthening skills and knowledge for female farmers
ActionAid Thailand focuses on strengthening skills and knowledge so women and girls can effectively participate in decision-making that affects their lives and livelihoods.
48% of Thai farmers are female, as recorded by the National Statistics Office of Thailand2 . Female farmers face challenges like lack of technological knowledge, land-grabbing and unpaid care work. 
According to the Food and Agriculture Organisation of the United Nations, if female farmers had the same access to resources as their male counterparts there could be a 20-30% estimated yield increase3 .
But most of the decision-making, access to knowledge and technology still rests with men as women are also expected to perform caring roles at home.
ActionAid Thailand facilitates the sharing of knowledge and experiences in farming practices for female farmers as well as education on land rights.
Tackling urban harassment and violence
86% of women in Thailand's cities have experienced some form of harassment or violence in public.4
According to the 2017 survey by Safe Cities for Women Network, in Bangkok 45% of female bus and train passengers reported being sexually harassed on public transport, of which 15.4% reported being touched or groped.5
ActionAid Thailand is part of the Safe Cities for Women Network in Thailand. Along with local partners, we work with the government's transport agency to create safer environments for women and girls including building a safer public transport system for women. 
Safe Cities for Women Network have recruited 800 volunteers to join 'Team Peuak" or "nosy team" where members of the public can safely interject on behalf of women and girls being harassed on public transport.
We have also established a campaign to encourage society to share ways to end sexual harassment on the transport system6 .
Safe Cities for Women Network developed 'Butt In Manual', a guide for public transport staff against sexual harassment.7
Through training and capacity building, we help women and girls to become empowered to recognise their rights so they can live without fear of violence and claim control over their bodies. 
Supporting communities through the Covid-19 pandemic
ActionAid has been working in Thailand to protect the most vulnerable groups throughout the coronavirus pandemic, with a focus on migrant and informal workers and other marginalised populations, about half of whom are women.
We have been distributing emergency supplies to schools (including soap, sanitisers, face masks and cleaning supplies) to help prevent the spread of Covid-19 and help children to continue their learning. 
We've also set up community kitchens for people vulnerable to food poverty, and using social media to raise awareness about the virus and its prevention in the community.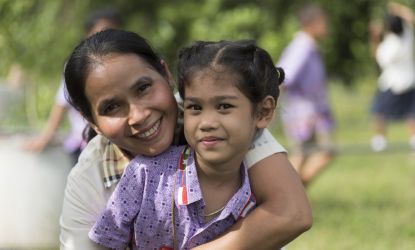 Improving the quality of education
ActionAid Thailand works with several schools and teachers to improve the quality of education in rural Thailand. 
Baan Don Sai School is one such school that has been developed on the small school model. Small schools in Thailand have less than 120 students and the school curriculum has been developed to match the local community's needs. Students learn life skills both in the classroom and outside of it such as learning to grow, cook and sell organic fruit and vegetables.
Read more about our work on access to education
Footnotes
1https://data.worldbank.org/indicator/SP.POP.TOTL?locations=NP
2https://translate.google.com/translate?hl=en&sl=th&u=https://gnews.apps.go.th/news%3Fnews%3D25250&prev=search
3https://www.cropscience.bayer.com/en/blogs/2019/03/diana-gitonga-women-smallholder-farmers-rising-to-the-challenge
4https://www.actionaid.org.uk/latest-news/three-in-four-women-experience-harassment-and-violence
5https://www.nationthailand.com/national/30359121
6https://www.teampueak.org/
7ActionAid Thailand annual report 2018
Top image: Students at Baan Don Sai School, a successful small school model in Thailand run by ActionAid Thailand and the Small School Network. ActionAid
Page updated 7 March 2023