This Menstrual Hygiene Day, share a better period
Many of us know what it's like to lend a tampon or a pad to someone - anyone - who needs one. 
It doesn't matter if it's your sister, a friend, or a complete stranger in the loo. It's an unwritten rule that we always help out in an emergency, if we can.
What about a woman living in a refugee camp, who has had to flee her home with nothing? Would you help her out too, if you could?
Around the world, thousands of women, girls and people who menstruate live without access to the safe sanitary products they need. 
So this Menstrual Hygiene Day, please help us to end period poverty, and share a better period with someone who needs it. 
Periods and girls' education
It's estimated that one in 10 girls in Africa will miss school when they have their periods. When girls miss several days of school a month, they are more likely to drop out altogether, putting them at greater risk of early child marriage.
ActionAid provides schoolgirls with sanitary pads and works with communities to improve access to toilets so that girls are able to continue their schooling uninterrupted. In our girls' clubs and girls' rooms in schools, we help girls get information about periods, sex and pregnancy, so that they are better informed about their bodies.
Keeping girls in school in Rwanda with sanitary towels
Marcelene is 17 and lives in Rwanda. Her family can't afford sanitary towels, so like many girls at her school she had to stay at home when she had her period.  
"I have a very big flow so I felt uncomfortable to come to school," Marcelene said. "I don't want to dirty myself." 
Missing school has had a negative impact on Marcelene's grades as it meant she couldn't sit some of her exams. But now, ActionAid has provided her school with a room where girls can access sanitary pads. 
"It's a nice room. If you get your period at school you go and change and go back to classes. If I use a pad, I feel so good and comfortable because it soaks the blood so well. If use the cloth I'm always tense that its going to pass through my uniform and stain it, then the boys see it and it becomes the talk of the day," she said. 
"I think it would be good if all schools had a safe room because it helps so many girls, especially those who can't afford pads from poor families. It encourages them to stay in school."
Periods and humanitarian disasters 
Women who have lost everything as a result of humanitarian crises tell us that amongst the essential items they need most are sanitary towels, wipes and soap.
Without menstrual products, women, girls and people who menstruate are forced to use improvised materials to manage their periods, including torn pieces of clothing and rags, which can cause infections. 
In humanitarian emergencies, ActionAid provides essentials kits which can include soap, menstrual products and clean underwear, helping people manage their periods safely, and with dignity. 
Supporting refugees with menstrual products
13-year-old Wesal's mother was killed in an airstrike on their home in Syria. Her father and grandmother tried to take Wesal and her sisters to Jordan – but at the border her father was arrested and taken back to Syria.
Now, Wesal and her three sisters are being brought up by their grandmother, Azziza, in Jordan. Without their mum and dad, the family are struggling to get by. 
Wesal started her period last year when she was 12. Now, Azziza has to face the agonising choice of whether to buy food or menstrual products for her granddaughters when they have their periods. 
Sanitary pads changing lives in Malawi
In Malawi, ActionAid is providing training for communities in how to make reusable, low-cost sanitary pads. These simple sanitary pads are changing lives.
Before, girls who couldn't afford sanitary pads often felt unable to go to school because they were teased by boys if their clothes became stained.
Now, not only are girls able to stay in school, but their others in the community are building long-term businesses by selling their extra pads at the market. This provides women with opportunities to earn an income and support their families.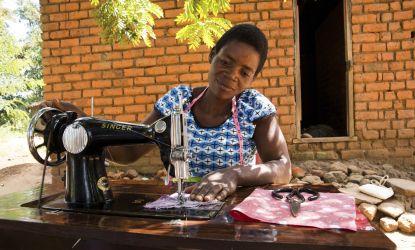 Sewing reusable sanitary pads
Ruth, from Malawi, is a mother of two who makes reusable sanitary pads for girls in Namalusa village, Malawi.
ActionAid provided the sewing machine, and training on how to use it, to her and other women in the community who were struggling to make ends meet. So far, the women taking part in this project have made 3,000 pads, to be distributed to 600 girls. 
"I think the program is good," Ruth says. "I've benefitted from it, and others are benefitting from it," she said. 
One of the girls who has received pads came to her to thank her and say that she was doing better at school because of the pads.
Ruth said: "I felt good in my heart, because I never expected I'd be able to make such a difference."
Top image: In Kampala, Uganda, Harriet received training from ActionAid to make reusable sanitary pads. Karin Schermbrucker/ActionAid
Page updated 27 April 2023