Why we work in Burundi
Burundi is struggling to recover from a 12-year civil war, where over 300,000 people were killed and hundreds of thousands of people displaced.
Since the end of the war in 2005, insecurity has persisted, with civil unrest flaring again in 2015. Since this time, a failed coup attempt, mass protests, and a government crackdown have caused widespread violence, forcing over 250,000 people to flee to neighbouring Democratic Republic of Congo (DRC), Rwanda, Tanzania, Uganda, and Zambia.
Years of war and ongoing political unrest, combined with extreme poverty and recurrent natural hazards has hit Burundi's economy hard and hunger is widespread.
Women's rights in Burundi
For women and girls, life is especially hard. Sexual violence, abuse, and limited access to education are common. However, the situation for women is improving. Equal numbers of boys and girls now attend primary school and enrolment rates have reached an impressive 96%.
Burundi also offers free healthcare to pregnant women and children under five, an initiative which has halved infant mortality rates over the past 10 years.
What we do in Burundi
Helping farmers grow food
Climate change, recurring natural hazards, land scarcity, and conflict have led to widespread displacement of farmers and a loss of livestock in Burundi. A shortage of good quality seeds means thousands of farmers are forced to use seeds that are prone to disease. As a result, many harvests are ruined and people go hungry.
ActionAid provides small-scale farmers with the training and tools they need to grow and multiply quality seeds, thus producing a better crop.
Through this support, we're helping hundreds of women to feed their children, as well as sell extra crops to pay for school fees and medicine.
Helping young people on the road to self-employment
Unemployment is high in Burundi. One out of two educated young people and 60% of those who haven't had been to school can't find employment and don't have the opportunity to learn vocational skills.
ActionAid helps young people to set up their own businesses by providing training in basic business management.
Raising awareness of women's rights
One in five girls in Burundi are married by their 18th birthday2 . Often these marriages are informal, or polygamous, meaning women can easily be abandoned by their husbands with several children and no means to support themselves. 
ActionAid has been working with the Batwa community, Burundi's indigenous people to raise awareness of women's and children's rights, including the risks of informal and polygamous marriage.
We support couples to legalise their marriage and receive marriage certificates to provide women with greater marriage security.
By providing training and financial support to women farmers associations, we're also helping women to make their own money and become more independent.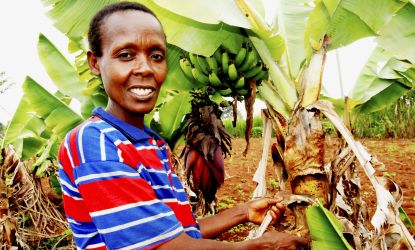 Helping farmers with training and support
Glosiose Nitonde is a smallholder farmer in Karusi Province, Burundi. To cope with the hard conditions in this area she and 233 other families formed a federation of associations called Shirukubute.
ActionAid supports Shirukubute through a local partner to help farmers increase the production of crops and make sure that the seeds they use are strong enough to adapt to the changing weather conditions. ActionAid also provides training in tree planting to prevent erosion.
Glosiose said: "I feel we all learn a lot from the federation. Together we are stronger, than if we are alone."
Learn more about our work on food security and sustainable livelihoods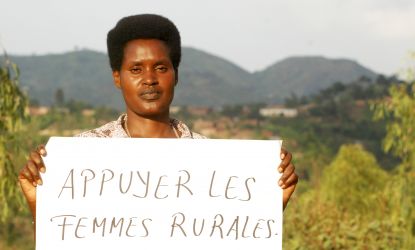 Supporting women affected by climate change
Marie Consolate is Vice-President of Synergy Horaniteka - a network of eight organisations problem-solving in their communities. Food shortage and malnutrition made worse by climate change is a serious problem in Karusi Province. "Due to the weather conditions, farmers don't have anything to store any more," Marie Consolate said.
Rural women are vital - yet seldom seen - part of the solution to this crisis. ActionAid supports women to improve crop production and the quality of seeds.
Ahead of the COP17 Climate Change Conference in 2011, ActionAid's HungerFREE campaign also gave women the opportunity to write messages to world leaders. Here Marie holds her sign saying 'support rural women'.
Page updated 3 March 2023