Emergencies, disasters and our humanitarian response
ActionAid's work in emergencies in 2020
We responded to
44
separate disaster events ranging from floods, cyclones, conflicts to refugee crises
More than
9.8m 
people received food supplies, sanitation, and hygiene support through our Covid-19 response

25m
people were supported through our Covid interventions
What are humanitarian crises or humanitarian emergencies? 
Humanitarian crises refers to an event or set of events that threaten the health, safety and livelihoods of a large number of people.1
What are the different types of humanitarian crises?
Humanitarian crises can be divided into the following:
Man-made emergencies such as conflict and industrial accidents. 

Disasters such as tsunamis, earthquakes, floods, droughts, cyclones, hurricanes and even health-related epidemics. 

Complex emergencies which are a combination of both natural hazards and man-made emergencies such as food insecurity and displacement of people. 
Women and girls' rights in emergencies
Ensuring that we work with women means that we do not overlook needs or vulnerabilities that are specific to women and girls in emergencies. We provide women-only safe spaces, where women and girls can access education and training, often for the first time in their lives. They learn to read, gain new skills and start to recognise their own potential.
In these safe spaces, women and girls receive emotional support for any trauma they have experienced. They can also access medical referrals for cases of rape and other forms of violence.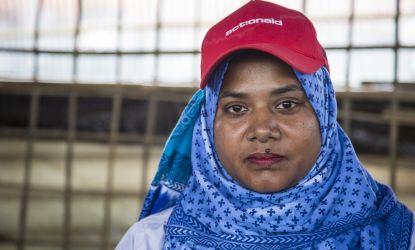 Supporting Rohingya women and girls who have survived violence
Fatema, 35, is an ActionAid counsellor and trained paramedic working in a refugee camp for Rohingya Muslims in Cox's Bazar, Bangladesh.
Fatema provides emotional support to traumatised women and girls fleeing violence in Rakhine state, Myanmar. "One woman was pregnant and fleeing with her husband," she says. "Her baby and husband were killed and she had to witness this. I saw marks of an attack on her body. She was crying and crying."
Fatema supports survivors with counselling and guidance. "We tell them that what happened is not your fault. You have to survive, you have to live. And when you live, you have to live with dignity."  
 
Despite the challenges of her work, which often brings her to tears, Fatema is glad to be helping survivors rebuild their lives. "I feel really great doing this job," she says. "It makes me feel really happy if I can lessen a woman's suffering even by a small amount."
Rapid response and recovery led by women 
We know from our emergency response work, for example in Bangladesh, the Democratic Republic of Congo, Haiti, Indonesia, Kenya, Malawi, Nepal and Somaliland, that women bring vital skills, resources and experience to humanitarian response.
Women's participation in decision-making is not only a fundamental human right. It has been proven to contribute to better disaster preparedness and risk reduction, as well as peace building and conflict resolution in communities.2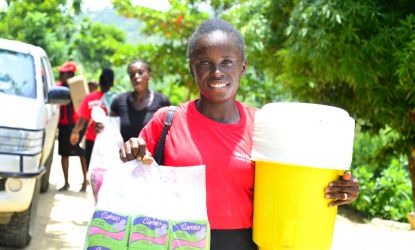 Women-led response during the Haiti earthquake
When a 7.2 magnitude earthquake struck south-western Haiti on 14th August 2021, over 2,000 people died and 12,000 people were injured.
ActionAid's emergency teams led by women were on the ground immediately in the worst affected areas of Jérémie and Les Cayes, responding to people's most urgent needs. 
ActionAid's first-responder, Ysnelle (36) guided the rescue efforts to save survivors trapped under the rubble. Along with other women first-responders, Ysnelle distributed food and sanitary supplies to those rescued and organised safe shelters for women and girls who were now vulnerable to violence without their homes. 
"With ActionAid building a network of women leaders and providing training to us on several levels of interventions during emergencies, we have gained skills and we are now known within the communities and help anyone in need," Ysnelle says.
"For me, the most important thing was to support women, little children, pregnant women, people living with disabilities."
Our long-term support in the wake of a disaster
In the months and years following an emergency, we work with local women to give them the support they need to face the future with renewed hope. This could be helping raise houses above floods levels, assisting them to get back to work with loans, or providing them with farmyard animals or means of transportation.
We endeavour to listen to what women and girls really need to rebuild their lives after an emergency. In Sierra Leone, our commitment to long-term support means we continue to work with grieving communities who were affected by the Ebola crisis, to help them recover from the physical, psychological and financial losses caused by the outbreak.
In areas that face high numbers of natural hazards, we train women to respond to the next disaster when it hits.
For example, in Nepal, ActionAid teaches schoolchildren skills to protect themselves when earthquakes strike.
In Bangladesh, we train women to lead people to shelters during cyclones. The results are astonishing: Cyclone Mahasen killed 17 people in Bangladesh in 2013, compared to 3,500 deaths as a result of Cyclone Sidr in 2007.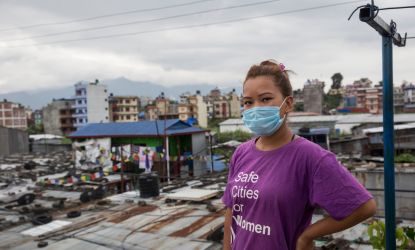 Women on the frontlines of the Covid-19 response in Nepal
After attending an ActionAid Nepal women's leadership programme, 23-year-old Barsha was inspired to volunteer for ActionAid and joined the coronavirus response locally. 
Women like Barsha, who work on the frontlines of the pandemic, have risked their lives to save others. Health care workers, paid and unpaid care workers, educators, and other essential workers have played a huge part in contributing to the response globally. 
In Nepal, Barsha taught people to wash their hands and wear masks and mapped the needs of the most vulnerable people so they can receive food, sanitary products, sanitiser, face masks and other support from ActionAid.
"Playing such a role [and] serving the community makes me feel good. It makes me realise I can do more, I can help more people," says Barsha. 
"Even with anything going on around us, the main thing is to be strong and have self-strength."
ActionAid's Uthiya is checking Anowara's body temperature during the Covid pandemic in Cox's Bazar Rohingya Refugee Camp. Fabeha Monir/ActionAid
Page updated 2 February 2023