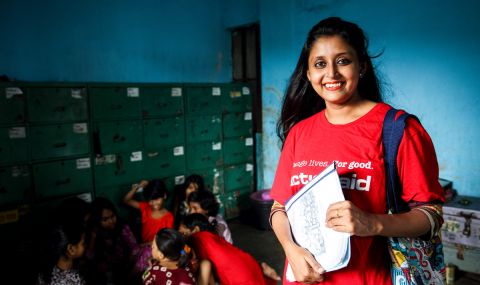 Be flexible and responsive
You have control over how we contact you and we will always provide you with a number of options for updating your communication preferences.
When a humanitarian crisis occurs we will provide information on how we are responding and give you the opportunity to donate.
Be respectful
We will always listen to what you have to say. If we have made a mistake we will apologise. If we need to make changes we will.
We have a procedure for dealing with complaints, and should you ever need to make a complaint or give us feedback we will listen, respond and take action.
We have a dedicated Supporter Contact team who will respond to all queries in an honest, friendly, professional and efficient way.  
Work with trusted agencies
We work with a number of fundraising service providers to help us raise money, because this is one of the most effective ways we can inform and inspire as many people as possible about ActionAid's work. 
We carefully select the agencies we work with and will only work with organisations who agree to abide by our very high standards. We make sure we work closely with our agencies to train fundraisers and we regularly monitor their work to ensure they continue to operate at these standards.
We're always ready to listen
Whether you want to change the way in which ActionAid contacts you, or tell us about something we could improve, our Supporter Contact Team would be happy to hear from you. You can get in touch by email at supportercontact@actionaid.org or on 01460 238 000.
Top image: Taniya lives in Happy Homes, a safe space for homeless girls supported by ActionAid in Dhaka, Bangladesh. G.M.B. Akash/Panos/ActionAid
Page updated 27 September 2022