Adolescent girls living in poverty grow up facing disadvantages both because of their age and their gender. 
Young girls' rights are regularly overlooked in policy, programmes and practice - often getting lost between women's rights and children's rights.
However, adolescent girls are not passive, or inherently vulnerable – they are challenging patriarchy and leading change in their communities, and globally.
Find out more about the issues adolescent girls face today, and how ActionAid is helping to empower them and prepare them for a brighter future.
Educating girls
Around 132 million girls worldwide are out of school and missing out on education1 .
Girls face unique challenges in accessing education for various reasons.
In some parts of the world, girls are valued less than boys due to prevailing, harmful social norms. 
Extreme poverty means families sometimes can't afford to prioritise their daughter's education. Fear of violence, lack of sanitation at schools, child marriage and living through conflict or crisis can also cause girls to drop out of school.
But educating girls has numerous benefits for both the girls and their communities. 
Education gives girls the skills to help raise the standard of living for themselves, their families and their communities.
It helps them invest in their future and opens up opportunities in the job market. 
It helps reduce child marriage, FGM and domestic violence as girls are more empowered; and it encourages girls to participate in politics and advocate for themselves and others.
Period poverty and adolescent girls
Having little or no access to menstrual products nor safe, hygienic places to use them in, can have lifelong implications for adolescent girls.
Period poverty can affect girls' health as they reuse old pads, tampons or rags and risk infection when they can't afford fresh or reusable menstrual protection. 
The stigma attached to menstruation can force girls to miss classes or drop out of school, affecting their education and future opportunities.
Tackling period poverty means girls can have equal access to education and extra-curricular activities and be on the same footing as their male peers.
It means that girls can manage their periods safely, with dignity and no shame.
And it helps raise awareness about periods, sex and pregnancy and educates girls about their health and reproductive rights.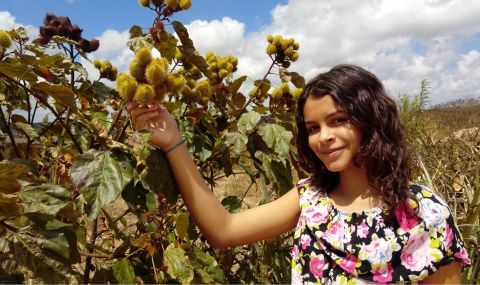 Child marriage and adolescent girls
Child marriages cheat young girls out of their childhoods and their freedom.
Although reasons for child marriage vary from region to region, gender inequality and poverty tend to be the main drivers behind this social practice. 
Girls married at a young age have limited or no access to education. They are under risk from early pregnancy and childbearing and can be left vulnerable to abuse and violence.
Research has shown that educating girls and ensuring they stay in school helps reduce the risk of child marriages.2  
How does ActionAid support adolescent girls?
ActionAid believes that all girls have the right to reach their full potential.
We champion girls' rights to safe and equal learning environments, quality education, bodily integrity, economic rights, freedom from violence and harmful practices, and to decrease the burden of unpaid care work.
We know that only by confronting unjust systems and harmful social norms we can shift power so that girls can claim their rights.
We understand that to do this we need to invest in girls' leadership, agency, creativity and future aspirations by working in partnership with local communities, rights groups and networks, and young feminist organisations.
This includes working with:
girls themselves, their families, peers, social networks;
their communities (including men, boys and community leaders);
services (such as schools, and health centres);
and national and local policies, and media which influence girls lives.
Our holistic, rights-based approach challenges the root causes of gender inequality.
We approach our work through the human rights lens as it is accountable to girls' needs and priorities; helps build their internal and external resources, and focuses on girls' voices and their experiences.
Here are some of the ways we work with adolescent girls.
Supporting education, hygiene health and stopping child marriage
ActionAid helps increase awareness about the importance of education.
We empower communities to demand their right to education from their governments.
We also support education by providing girls with bicycles so they can safely get to school without fear of violence.
We help build toilets and provide hygiene kits so girls can manage their periods safely and don't feel compelled to skip school.
We campaign against child marriage by influencing policies and laws, and we have community-led anti-violence teams based in some regions that identify and help girls at risk.
Girls' clubs and forums
Another one of the ways ActionAid empowers girls is through our extensive network of girls' clubs and safe spaces across the world. Here, they can connect with peers and older female mentors, gain confidence and learn life skills.
Our approach to girls' clubs and safe spaces include girls' advocacy and leadership – taking the skills they have gained into the community and building movements for girl-led change.
Following are some examples of the work we do with girls' clubs.
At the clubs, we teach girls to challenge the gender inequalities that prevent them from accessing education and thriving in schools. This includes raising awareness about the benefits of learning and reaching out to girls in communities that have dropped out of schools. Girls who attend these clubs are also more likely to stay in school and to have useful skills for employment in the future.
We also address violence against girls in schools and support survivors. Girls can discuss any issues or concerns that they may have and share their experiences in a safe and welcoming environment.
School teachers or local ActionAid workers also lead workshops on reproductive health, periods and puberty. Girls learn about early child marriage, early pregnancy and harmful traditional practices like female genital mutilation (FGM).
During the Covid-19 pandemic, ActionAid has been working through existing girls clubs and safe spaces to provide phone mentorship to girls, and in some cases to continue sessions remotely. Girls from some of the clubs have also been involved in the community response to the coronavirus crisis.
Most importantly, these forums enable an environment where girls learn how to demand their rights, and in turn, develop their self-esteem and leadership skills.
Our girls' clubs and safe spaces include the Young Female Platforms in Ghana, Not Any Girl in Kenya, and Speak Out programme in Rwanda.
Youth-led campaigning and advocacy
ActionAid empowers, mobilises, organises young girls and builds solidarity between them.
We bridge the struggles of young, invisible and marginalised girls living in poverty.
ActionAid's youth work include:
Activista: ActionAid's global youth network of thousands of young activists in more than 25 countries across Europe, Latin America Asia and Africa volunteering to create powerful and creative campaigns.
Global Platforms: Global Platforms are a worldwide network of social activism and training hubs through which we support youth organisations to bring about positive change.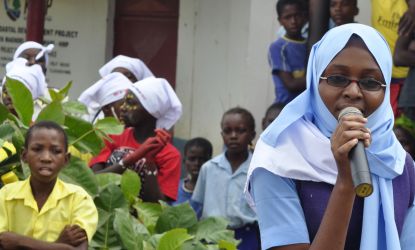 Learning leadership skills
ActionAid's girls' clubs help instil self-esteem and confidence in adolescent girls.
15-year-old Aisha joined her local ActionAid girls' club in Kenya so she could help her fellow students.
When girls at her school struggled with their periods, Aisha started advocating on their behalf. She worked with local community groups who could donate sanitary towels to her school.
She is now an elected leader of her school's student group and works hard to ensure girls' rights are at the forefront. She campaigns so that students can go to school and helps raise awareness about environmental rights.
I am confident and I can stand in front of more than 500 people and talk about rights of children... I am grateful that ActionAid came in and helped us to learn (about) our rights and other skills."
Top image: 13-year-old Nur lives in a Rohingya camp in Cox's Bazar, Bangladesh with her parents. Fabeha Monir/ActionAid
Page updated 26 January 2023