Why we work in Uganda
A recent push for democracy in Uganda has helped improve economic growth. Progress has been made in several key areas including health care which is free in state-run clinics and more communities have access to safe drinking water.
The World Bank's latest Uganda poverty assessment found that the proportion of the population living below the poverty line has declined to less than 20% in recent years.1
However, poverty remains deep-rooted in Uganda, particularly in rural areas and sanitation, access to electricity, child malnutrition and education can be improved.
Women's rights in Uganda
Violence against women is common, with three out of five women experiencing gender-based violence in their lifetime.5 Some women don't know that there are laws to protect them from abuse.
When their husband or relative dies, many women in Uganda face a fierce battle to inherit the land which is rightfully theirs.
While women hold a third of senior positions in parliament,6   unpaid care work remains a challenge for women in Uganda. Women in Uganda work an average of 15 hours a day, while men work between eight and 10 hours a day. 7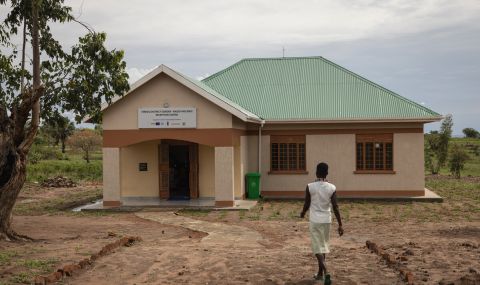 What we do in Uganda
Ending violence against women and girls
In Uganda, we run 10 shelters which provide safe, comforting temporary accommodation for survivors of violence.
At our shelters, women and girls can get counselling, first aid and referrals to medical centres for further treatment. The shelters also provide legal support so that survivors can access justice. 
As of 2018, these shelters have supported over 13,000 people in the past five years.
Fighting for women and girls' rights
Through our local women's networks, ActionAid helps women learn about their rights and develop skills such as sewing, soap-making and basket-weaving.
This helps women earn an income, gain financial independence from their male family members and put themselves in a stronger position to stand up to or leave an abusive partner.
In the long term, we are committed to preventing further violence. We work with cultural and religious leaders to change attitudes, and with men of all ages to build awareness and agreement that violence against women and girls is not acceptable.
Our outreach work also involves schools, community radio projects and mobile legal aid clinics which provide support to women and girls living in remote rural areas.
Supporting quality education
The dilapidated school buildings and huge class sizes at Soroti Demonstration school meant that children's education was suffering.
So when community monitors – trained by ActionAid to lobby the local government for better quality education – secured money for the renovation of classrooms, the community rejoiced.
Now students can learn in purpose-built classrooms with enough desks for everyone.
Deputy Head Teacher Okiria Michael has seen for himself the impact of ActionAid's assistance.
"It is not that ActionAid told us to petition. ActionAid told us about our rights. Then our people rose up in big numbers because we realised that we needed collective action to attain that which is rightfully ours. Now school enrolment has gone up – and so has our academic performance."
Tax justice for Uganda
Every year, multinational companies and rich nations dodge billions of pounds of tax in developing countries. This lost revenue could pay for much-needed essential services like schools and hospitals.
That's why, in June 2016, ActionAid and our partners in the global Tax Justice Network collected over three million signatures in a move to stop MPs from dodging income tax.
According to Harriet Gimbo, Country Director of ActionAid Uganda, the campaign registered overwhelming support by citizens in her country. "In just one week, 2,821,909 Ugandan citizens from 88 districts signed the petition," she says.
Supporting communities affected by the Covid-19 pandemic
ActionAid has directly reached at least 5,000 people as part of our emergency coronavirus response in Uganda. 
Lockdowns, economic crisis and the lack of public services hit the poorest in Uganda the hardest - particularly smallholder farmers, about 80% of whom are women. 
We've been working to support the most vulnerable, distributing food packages, supporting women's groups to adopt sustainable agricultural practices, and building local seed banks to benefit farmers vulnerable to food insecurity. 
This includes advocating for better services to prevent gender-based violence, including women's shelters.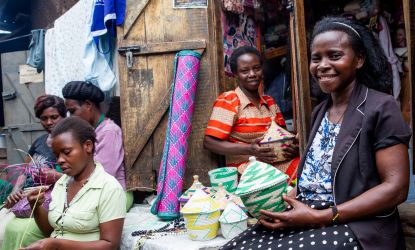 Domestic violence survivor becomes women's leader
Cossy's husband began beating her when the pair went for medical tests and found out they were both HIV-positive. He blamed his wife, 40, for giving him the virus.
When her husband died, Cossy began seeking medical treatment. With the support of ActionAid and our partner, the Makerere Women's Development Association (MAWEDA), Cossy received medical support as well as training about her rights and the skills to set up her own business.
Cossy got a loan to set up her own shop, which doubles as a hair salon and a place to weave baskets. Now she works as a facilitator in the MAWEDA and looks out for women who do not have husbands.
She has trained five women as hairdressers so far, and every Saturday invites women to come and weave baskets and sell them from her shop.
"If Action Aid had not come working with MAWEDA I would have died. I would not be here", she says.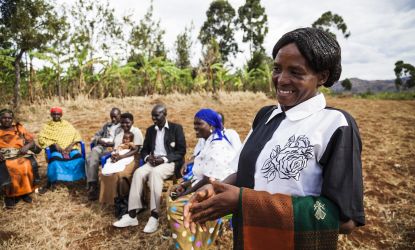 Aiding women's groups
Members of the ActionAid-supported Kween Survivors Forum Group meet once a week to discuss issues that affect their community.
These issues include female genital mutilation (FGM), alcoholism, child neglect and education, lack of accessible clean water and children who are forced to drop out of school. 
The Forum Group is chaired by 43-year-old Beatrice Chebet. She is an FGM survivor and the mother of 10 children. Two of her children are sponsored through ActionAid's longstanding child sponsorship programme.
One of Beatrice's tasks as chairperson of the Kween Survivors Forum Group is to give permission to members who have raised a hand to talk, to maintain order during meetings.
As well as being chairperson of the forum, Beatrice grows an array of food and cash crops. She makes a living through small-scale farming.
Footnotes
1https://data.worldbank.org/indicator/SP.POP.TOTL?locations=UG
1http://www.worldbank.org/en/country/uganda/brief/uganda-poverty-assessment-2016-fact-sheet
5https://afro.who.int/news/uganda-launches-gender-based-violence-advocacy-pack
6https://data.worldbank.org/indicator/SG.GEN.PARL.ZS
7http://siteresources.worldbank.org/INTAFRREGTOPGENDER/Resources/ugandaSCGA.pdf
Top image: Children at primary school in Uganda. Kibuuka Mukisa Oscar/ActionAid
Page updated 7 March 2023