Every child deserves to go to school, drink clean water and eat nutritious food. When you sponsor a child with ActionAid, you can help provide that bright future. 
When you sign up to become a sponsor, you'll be starting a new friendship with a boy or girl in one of the world's poorest countries - a friendship you'll treasure forever.
You'll be making an amazing difference to the life of a child like Zeinab, from Tanzania.
Zeinab lives in a poor village in Tanzania, but thanks to her child sponsor, she is growing up happy and healthy, and getting the education that is her right. Her favourite subject at school is Swahili, and she wants to become a teacher when she grows up. 
She also attends a local ActionAid girls' club, where she learns about her rights and the importance of education.
Will you sponsor a child like Zeinab for just 65p a day, and give a life-changing gift?
What will my child sponsorship pay for?
Food

Nutritious meals for children and seeds and livestock for families to grow their own food

Education

Schoolbooks, fees, equipment and even a whole new school building in the sponsored child's community

Clean water

Building wells, purifying water sources, and better sanitation facilities

Healthcare

Medical and dental clinics, basic medical supplies and health education
What child sponsorship can do: Purna's story
Purna is a midwife and has two daughters. Here she's holding up a photo of herself aged 12, when she was sponsored through ActionAid. 
Growing up in rural Nepal, Purna's family were very poor - her family couldn't afford to send her to school. But with the help of her sponsor, Purna was able to go to school and fulfill her dream of becoming a nurse, then a midwife. 
Purna has now helped to deliver hundreds of babies, saved many lives and cared for many more mothers and children.
Being without education is like being blind. [But my sponsor] opened my eyes. Because of them I was also able to open the eyes of my children. Education is very important."
80% of the donations we receive through child sponsorship goes overseas (while  20% is spent in the UK on raising awareness and finding more supporters).
Of the 80% overseas gift, 70% goes directly to your sponsored child's community or, if there is an exceptional need such as a life-threatening emergency, another community within their country.
The remaining 30% is used to fund other vital work in developing countries, and running child sponsorship so that you can receive messages from your sponsored child, and hear how your gift is changing lives.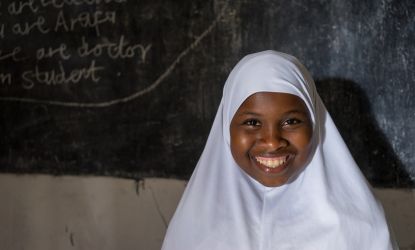 About ActionAid
ActionAid is an international charity that works with women and girls living in poverty.
Our dedicated local staff are changing the world with women and girls.
We are ending violence and fighting poverty so that all women and girls, everywhere, can create the future they want. 
We understand the deep-rooted problems facing women and girls, and we work alongside whole communities to find solutions.
Top image: Zeinab, 10, a sponsored child from Tanzania. Rachel Palmer/ActionAid. Others: Sharron Lovell, Greg Funnell, Nicolas Axelrod, Caroline Thomas, Savann Oeurm, Des Willie, Nayantara Gurung Kakshapati, Celia Peterson/ActionAid.
Page updated 4 January 2022