Vietnam has the second highest number of women in parliament of any country in Asia, and has one of the largest female workforces. However, nearly one in seven women work in informal labour, with few rights. Domestic violence is high, with three out of five women experiencing some form of violence in their lifetime from their partner. One in 10 girls is married by their 18th birthday.
As climate change disrupts rainfall and food prices soar, many of the most vulnerable communities in Vietnam are struggling to feed themselves. Forty per cent of the poorest children are suffering from stunted growth due to malnutrition.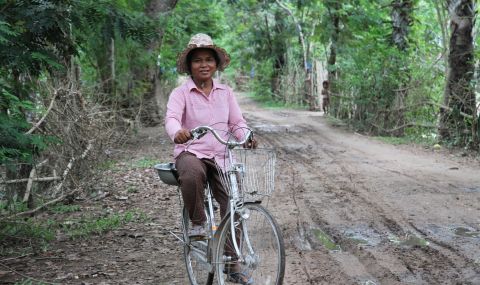 What we do in Vietnam
Fighting for women's rights
ActionAid staff deliver training in women's rights to local communities across the country and we support them to lobby their own government for change.
We also run girls' clubs in schools where girls can learn about their bodies and empower them to understand and assert their rights to have an education, live free from violence and marry if, who and when they want. 
Ending hunger
We support people to boost their crop yields, by helping them improve their farming practices and we campaign with them to change policies that drive up the price of basic foods.
In 2014 over 400 community groups were created, helping thousands of families to learn new skills, earn extra income and eat more nutritious food. 
Providing quality education
Women and girls in Vietnam are responsible for almost all the household tasks, from cleaning to cooking and growing food. This unpaid labour is rarely acknowledged as 'real' work and girls often miss out on studying and playing in order to help their mothers with domestic chores. This can often make them fall behind in school.
In 2015, ActionAid was invited by local rights groups to speak with over 1,200 women and men living in the Hoa Binh region about of the impact of unpaid labour, such as child care, household chores and fetching water. 
We also trained families about the long-term benefits of sending girls to school. After the training, many women reported that their husbands and sons were sharing tasks previously done by women.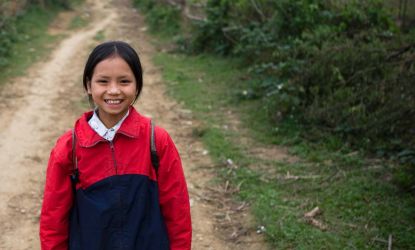 Helping girls go to school
Nguyen Thi Anh lives in in a mountainous region of northern Vietnam, and in the winter it gets very cold. Most families cannot afford to buy their children a coat, so rather than risk them getting ill on the walk to school or during a long cold day in the classroom, many students don't go to school in the winter months. 
"This coat is from ActonAid, and now going to school in winter will not scare me at all as I can wear my coat every day," Nguyen Thi Anh said. 
Why education is so important for girls' futures
Footnotes
1World Bank, 2010. See page 2 for summary of disadvantages faced by ethnic minorities. http://siteresources.worldbank.org/EXTINDPEOPLE/Resources/4078011271860301656
Top image: Children at their kindergarten in the Mekong Delta, Vietnam. ActionAid