With conflict and climate-driven crises on the increase, the world is facing an unprecedented number of humanitarian disasters. 
We work on-the-ground to deliver emergency aid like food, water, shelter and medicine, to meet the immediate needs of people affected by crisis. And in the long-term, we work hand-in-hand with communities to help them rebuild and recover, putting women and girls' safety and wellbeing at the heart of our approach.
Learn about the different types of humanitarian crises that occur around the world, and what ActionAid does to prepare for them and mitigate their effects. 
What are humanitarian crises or humanitarian emergencies? 
Humanitarian crises refers to an event or set of events that threaten the health, safety and livelihoods of a large number of people.1
What are the different types of humanitarian crises?
Humanitarian crises can be divided into the following:
Man-made emergencies such as conflict and industrial accidents. 

Disasters such as tsunamis, earthquakes, floods, droughts, cyclones, hurricanes and health-related epidemics. 

Complex emergencies, which are a combination of both natural hazards and man-made emergencies such as food insecurity and displacement of people. 
ActionAid's work in emergencies in 2019
37
Emergencies responded to
880,000
People supported by ActionAid
10,000
Food packages distributed to people affected by flooding in Bangladesh
Human rights-based approach (HRBA) in emergencies
People affected by disasters have the right to assistance: this means ActionAid responds to emergencies with immediate life-saving support to meet basic needs, whilst also working to address underlying inequalities and promote long-term change in the community hit by the disaster.
Our human rights-based approach promotes the leadership, engagement and agency of poor and excluded people, particularly women, ensuring they are at the centre of emergency response. When disaster strikes, ActionAid aims to save lives and protect rights.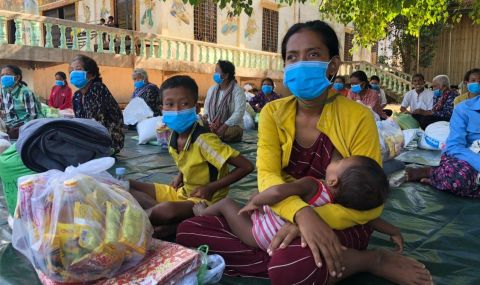 Footnotes
1https://www.humanitariancoalition.ca/info-portal/factsheets/what-is-a-humanitarian-crisis
Top photo: Woman walks past the rubble caused by an earthquake and tsunami that hit Indonesia's Central Sulawesi province in September 2018.
Page updated 27 September 2022