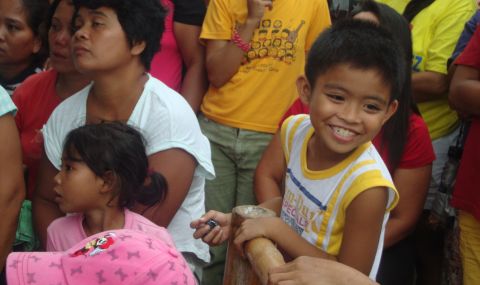 How is ActionAid transparent?
We aim to be as transparent as possible in the following ways:
Maintaining confidentiality and keeping people safe
There are some types of information that we may not be able to share, to respect confidentiality and the law, and to protect our staff in high-risk situations such as war or conflict.
Information we will protect includes:
personal information about our members of staff
intellectual property that is confidential or subject to restrictions
information about ongoing legal processes.
If you can't find important information you're looking for, please get in touch with us at supportercontact@actionaid.org.
If you have specific questions around the data we publish to the International Aid Transparency Initiative (IATI) platform, please email Transparency.UK@actionaid.org.
Our CEO's salary
We believe it is important that our staff are not paid more than is necessary while acknowledging their knowledge and expertise. We pride ourselves on having a pay and grading structure that is affordable, sustainable, and in line with the sector. Our directors' salaries are set so they never exceed the median salary for comparable roles in similar organisations within the charity sector.
In 2021,  ActionAid's Chief Executive salary was £115,141. Our Chief Executive's pay remains well below the market rate for most UK charity directors (the 2020 median salary for high-earners in the top 100 UK charities was £205,000) and well below most executive salaries in the public and private sector).1
ActionAid firmly believes that's as it should be – people work for a charity because they are committed to building a better world. But for a job that demands responsibility, our chief executive's salary reflects his knowledge, skills, and detailed experience of development, whilst offering real value for money.
For more information related to ActionAid Director's salary and expenses, please refer to our annual Trustee Reports and Accounts.
Ensuring your money is spent responsibly
With over 40 years' experience in international development, ActionAid has a long history of building effective partnerships with local organisations and running our projects in the most responsible and financially secure way. Our child sponsorship programme also keeps our work routed in the same communities, meaning we build long term relationships based on trust.
That said, no organisation is immune to fraud. ActionAid has a zero-tolerance policy on fraud and corruption and are proactive in trying to minimise opportunities in which fraud can occur. We have policies, procedures, controls and assurance in place, both internationally and nationally, with oversight by the ActionAid International Board and through country level boards. Relevant policies include bribery and corruption, financial management, and delegation schemes.
All allegations made through our whistleblowing or complaints are investigated immediately. Any staff found to have engaged in such activities will be subject to disciplinary procedures and we always take legal action to recover funds. We also provide training on bribery and corruption for finance staff and treasurers throughout the federation.
Footnotes
1https://www.thirdsector.co.uk/charity-pay-study-2021-biggest-earners/management/article/1713966
Photo credit: Esben Salling/ActionAid. Main photo: Mwanajuma Hiribae, a Programme Coordinator, updates the ActionAid transparency board in Wenje, Kenya, with information about the budgets of the initiatives being carried out.
Page updated 1 November 2022