ActionAid believes that all children should have an equal chance to thrive.
Your sponsorship will make a huge difference to a girl or boy in need – ensuring they have enough to eat, an education and hope for the future.
As their only sponsor, you'll have a special relationship with your sponsored child. You'll receive photos, handwritten messages and regular updates from their community. 
You can choose where you sponsor a child, or you can leave it to our team to decide; they know which communities are in greatest need. It only takes a few minutes to become a child sponsor, but you could change a child's life forever.
Things you should know about child sponsorship
50 years
ActionAid has 50 years of experience changing the lives of children and communities through child sponsorship.
38,000
You'll be joining a community of more than 38,000 generous ActionAid child sponsors in the UK alone.
£19.50
We ask for a minimum of £19.50 a month so we can provide lasting support to the communities that benefit from your sponsorship.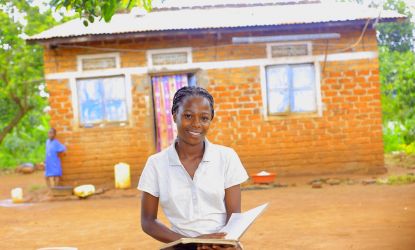 Harriet's experience as a sponsored child
As a sponsored child, I had the opportunity to write to my sponsor.

ActionAid organised special days for all the children to write to their sponsors which were filled with fun events that each of us looked forward to.

It was a new and interesting experience for us to communicate with people in a different country. I had found a friend to whom I could tell my dreams and aspirations. I felt a personal responsibility to pursue my dreams."
About ActionAid
ActionAid is an international charity that works with women and girls living in poverty.
Our dedicated local staff are changing the world with women and girls.
We are ending violence and fighting poverty so that all women and girls, everywhere, can create the future they want. 
We understand the deep-rooted problems facing women and girls, and we work alongside whole communities to find solutions.
Your sponsorship could support a child like seven-year-old Simran (right) or her best friend Manisha (left), from Nepal. Image: Gopal Kumar Kumal/ActionAid
Page updated 13 November 2023