Horrific memories of war, by a 20-year-old student from Gaza
11 December 2017
Athar, 20, lives in Gaza and is now studying at university, but in 2014 her life changed dramatically as a result of the war. Here she shares her personal account of what happened to her, and explains the strength it takes to survive in Gaza. ActionAid UK's #NoGirlAfraid Christmas appeal is supporting girls at risk in the world's toughest places, because a life free from fear is every girl's right. Athar is happy to tell her story and says that this is the first time she has shared this with others.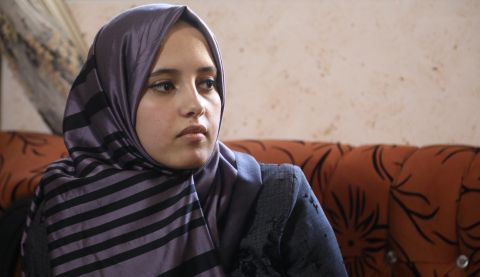 The worst day of my life
This is what happened to me in the war on the Gaza Strip in 2014.
It was the second day of Eid al-Fitr, a religious event for Muslims (like Christmas for Christians) so it should have been a happy feast but it was the worst day of my life.
Everything turned into darkness.
It was seven in the morning. We had not slept since the night before because of the intensity of the shelling. My uncle's family also came to our house because our apartment is a basement flat and the sound of the planes was less audible.
We were sitting in the living room and doing nothing. My father sat next to me and my sister Saraa was sitting in his lap. My uncle, his wife and children were also in the living room. My mother and sister Toqa were sitting in the bedroom. I was talking to my uncle's wife about our neighbours, whose house had been bombed the night before. We decided to visit them in the afternoon to see if they needed anything.
While I was talking with her, everything turned into darkness. I could no longer see anything. I tried to shout but I couldn't even hear my own voice. I could only see little red sparks approaching me. The smoke was heavy and my breath began to fall. Everything happened suddenly and quickly. It may have seemed quick to me but it took a long time.
My mother looked at me with horror because my face was covered with blood.
When I started to regain consciousness, and recover from the shock, I stood up and went into the inner rooms and started looking for my family. I found my mother, looking at me with horror because my face was covered with blood. Until this moment, I did not realise that our house had been shelled and I didn't even feel my wounds.
The earth under me was burning like hell. I tried to get out but the door of the house had been turned into rubble and I had to crawl underneath it. While I was looking through to get out, I saw the shadow of a person. My mother and I went closer and found that this person was my little sister Saraa, but she was turned to black and covered with blood.
When I picked her up, I saw my father too. It was a very scary situation. His shape was so frightening that I didn't recognise him. I began screaming and crying like crazy. I did not know what to do. No one dared enter our house because they feared being bombed again. My mother tried to get my father out, but she couldn't. His body kept sliding from her hands because it was covered with blood and torn by the abundance of wounds. After a while my brother arrived and helped my mother get my father out.
Arriving at hospital
I got out, taking Saraa with me, but I lost consciousness again. When I woke up I was on my way to the hospital and Saraa was in my lap. When I touched her body, my hand fell on a deep wound in her leg. I started crying and then noticed my father lying in front of me and talking to me with a muffled voice: "Do not cry, my daughter. Calm down and be patient. Everything will be fine."
These were the last words I heard from my father.
When we arrived at the hospital, they took my father to intensive care because his injury was very serious. I couldn't move any part of my body. I felt terrible pain and could not breathe either, so the doctors put me on artificial respiration. They gave me several needles and pulled blood from me and many things I do not want to remember. My injury was moderate, but my sister was seriously injured. She was transferred to another hospital for an urgent operation.
I felt terrible pain and could not breathe.
After a long time my mother arrived at the hospital and I asked her what had happened. She told me that our house was bombed and that my uncle was killed. I did not know what to do. The shock was very strong for me. I was bleeding and my sister was in the operating room and I did not know what had happened to my father and no one was telling us about his condition and many people were screaming around me. It was very terrible.
Three hours later, my father died. When I heard that I completely collapsed. The shocks came one by one. Worst of all, I did not say goodbye to him and I did not see him before putting him in his grave because I could not move.
Three hours later my father died. The shocks came one by one.
All the muscles in my body were spasmodic. I was bleeding profusely and there was shrapnel all over my body. The doctors stitched my wounds without removing the shrapnel, so I still have problems because of this. I had to leave the hospital because there were a huge number of patients. They couldn't take care of all of them and there were not enough materials to treat all the injuries.
We all changed after what happened
Because of this, during the war, my mother and sister travelled to Turkey to complete my sister's treatment. I stayed at the house of one of my uncles.
I never spoke to my mother that much about what happened because she was missing my father so much. As for Saraa, she doesn't like to hear anything about the war.
We all changed after what happened; my mother became quieter and does not talk much, Saraa became nervous and cries a lot. Toqa also became very sensitive.
Saraa has been helped by the activities she joins at ActionAid's family centre here. She loves doing things there like traditional dance, picnics, parties and celebrations. At home, she doesn't like to see anyone. There, she makes new friends. She comes home and says, "I'm very happy, I never did that before." It's something new and something good for her emotions.
I don't deny that the war affected me a lot, but I was able to challenge my circumstances and I finished secondary school with 91.4%. I'm now in my third year studying English Language and Literature at university.
Here in Gaza we learn the basics of the English language from the first grade up to the end of high school, but I decided to specialise in English literature. I am also learning Turkish now.
I hope to finish my studies and become a translator. I will learn many languages and then I will tell all the world about this crisis and what is happening here in Gaza.
I want to make a change in the world
You could say the "elite" live in Gaza. The strongest people live here. We don't have the ability to predict what will happen in Gaza. Maybe war this year, maybe next year. It's the hardest, but most beautiful life – the dark and the light. You must have great determination to stay alive here, because every day you have to face many problems.
You don't have the chance to predict your future, to say I will live the life I want. So you have to have great determination to finish something and depend on yourself to overcome everything in life, to make the things you want.
It's the hardest, but most beautiful life – the dark and the light. You must have great determination to stay alive here.
I want to make a change in the world. To help people live their life. To know the meaning of life, the meaning of dreams, and to be loved by others.
I want to be famous and a well-known person in this world, because then you can affect others – you can have an impact on them, and they will listen to you.
How you can help
Athar's powerful testimony gives a heartbreaking insight into the traumatising experiences that thousands of children are growing up with in the occupied Palestinian territory. And millions more girls in other countries around the world are living in fear as a result of conflict.
With your help, we can support girls like Athar and Saraa to recover their trauma and fulfil their dreams. Through our child sponsorship programme, we provide psychosocial services to help children overcome PTSD symptoms, and the resources girls need to stay in school, like rechargeable lights and stationery.
Please sponsor a child this Christmas to help us change more lives, for good.
Photo: Paul Evans/ActionAid
Read next
16 March 2022

23 December 2021