WhatsApp stories of day-to-day life as a girl in Gaza
16 January 2018
20-year-old Athar is studying English Literature at university, loves WhatsApp, chocolate ice cream and going for dinner with her family. So far, so familiar. But because Athar lives in Gaza, this intelligent young woman has survived unimaginable hardship and trauma. Her home was bombed during the 2014 war – she and her sister were injured, and her father was killed.
Athar is keen to share her story, so more people know what is happening in Gaza. Read extracts from my WhatsApp chat with her to gain unique insight into what it's like growing up as a girl in Gaza, and be inspired by her amazing approach to life.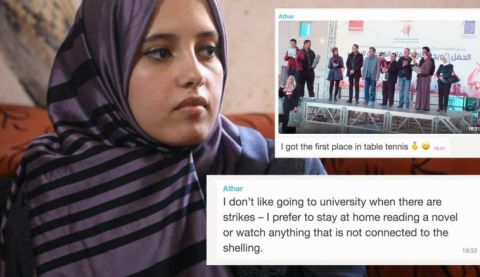 Day-to-day life in Gaza
Since that terrible time when her house was bombed in 2014, Athar has rebuilt her life and her home, where she still lives with her mum and sister, under occupation.
Athar is now going to university - determined to finish her education. But the situation in Gaza still causes ongoing challenges for her and her whole family on a daily basis.
Studying in a war zone
Athar is very hard-working. She's now in her third year studying English Language and Literature at university.
But her injuries are still there – both physically in the shrapnel wounds in her legs and stomach, and emotionally, in her grief and the post-traumatic stress she witnesses in her family every day.
Despite this, she's determined to succeed and make the most of her life. Once she's finished her studies she wants to become a translator and learn many languages so she can tell the world about the crisis in Gaza.
The hardest challenge growing up in Gaza
Athar told us that the hardest thing for her is accepting that she's an orphan. We were surprised when she said this, as though she lost her father when their house was bombed in 2014, her mother is still alive. She explained how things are different in Gaza.
Pursuing hobbies after 2014
Athar used to be a table tennis champion, but hasn't played since the war, because of the injury to her legs. She's won poetry competitions, but she hasn't written much since her father died.
She can't walk down the street at night for fear of harassment or violence. Gaza's electricity crisis has made this worse. She copes with all of this uncomplainingly. It's just normal for her. And she won't let her injuries hold her back.
Please support our #NoGirlAfraid appeal
We hope that you, like us, are inspired by Athar: by her resilience, her bravery to assert her right to choose her own path in life, and her determination – to achieve her dreams of being a translator, of travelling, of a peaceful Gaza, and a fairer world.
Athar was really happy to chat with us. She says:
With your help, we can support girls in countries like Gaza that are torn apart by conflict to recover from trauma and fulfil their dreams. Through our child sponsorship programme, we provide psychosocial services to help children overcome PTSD symptoms, and the resources girls need to stay in school, like rechargeable lights and stationery.
Please support our #NoGirlAfraid appeal today.
Find out more about supporting our appeal
Read next
16 March 2022

2 February 2018