Meet ActionAid's humanitarian heroes
15 October 2018
When disaster strikes, ActionAid does things differently. We work directly with local women and girls to provide support and save lives. Meet just some of the incredible women ActionAid works with in humanitarian emergencies around the world, and find out how they get supplies and information quickly and fairly to those who need it most.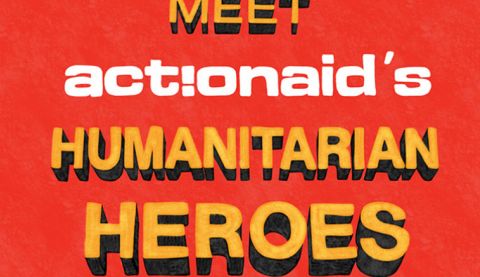 ActionAid's unique approach is to empower local women to lead the response in an emergency. Meet ActionAid's humanitarian heroes: pic.twitter.com/W1dUqle87w

— ActionAid UK (@ActionAidUK) 17 October 2018
Luijah, project monitor, Kenya
Luijah has worked for ActionAid Kenya for over 10 years. During the East Africa Food Crisis, she coordinated a Food for Assets programme which helped the poorest and most vulnerable women in drought-hit communities.
The women worked on activities that benefited the whole community, including water conservation and building fences, and in return they were given maize, split peas and vegetable oil. Every part of the programme was run by women, from Luijah's role in managing the food distributions, to the committee of local women who logged the work carried out and measured the food.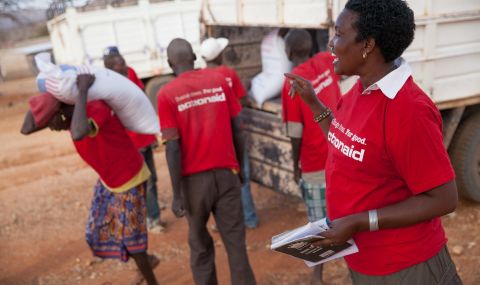 "I feel great about being a strong female leader in the community," says Luijah. "With Food for Assets, women are becoming more empowered in their household, they are managing the food. Men used to be in charge of the money so women didn't have control."
Luijah has seen big changes in the community as a result. "Women are able to support their families, and children have more stable lives and are given an education. I feel great doing my job," she says. 
Emelline, community circle leader, Jordan 
Emelline, 35, fled her home in Syria when fighting made it too dangerous to stay. She now lives in Zarqa, Jordan. 
"When I first came to Zarqa, I was afraid to connect with people and was worried about being sent back to a camp or to Syria," she says. ActionAid provided Emelline with psychosocial support and training in women's rights, which she says has transformed her life. "Now I know women's rights. In Damascus I didn't know that they existed," she says.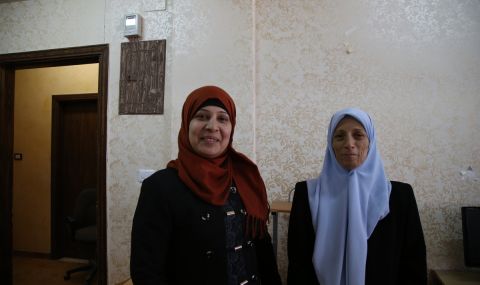 With her new-found confidence and knowledge, Emelline helps other vulnerable women in the community, including refugees from Syria and from the Occupied Palestinian Territories. She manages a community circle for women, where she runs child protection training and other activities.
She encouraged 46-year-old Aesha, pictured, to join the circle, after noticing that she was struggling to care for her family alone after the death of her husband. 
"The community circle is a safe space to talk," says Emelline. "The women think that they are the only one having health problems or other problems, but through talking to other women in the community circle, they realise that there are other women who are having the same problems."
Ismene, civil engineer and social worker, Haiti
Ismene has been working with ActionAid in Haiti since 2015. "I am a civil engineer and a social worker. And I am also a strong feminist!" she says. "It is definitely unusual to find female engineers here in Haiti."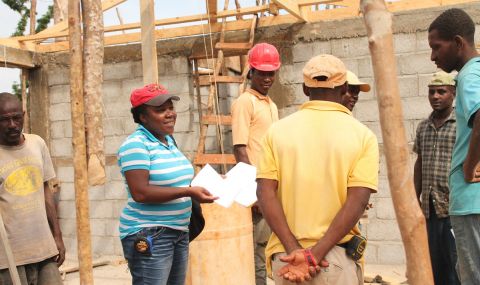 Ismene supervised the building of women-friendly spaces in Haiti after the devastation caused by Hurricane Matthew, which affected over two million people. "I know that my skills were useful after Hurricane Matthew, just like they were after the 2010 earthquake," she says. "After a catastrophe, there is often more violence, especially gender-based violence and sexual violence. There is also more discrimination against women. Therefore it's very important that women know how to respond." 
Fatema, counsellor and paramedic, Bangladesh
Fatema is a counsellor and paramedic, who works with ActionAid to support Rohingya refugee women and girls in Cox's Bazar, Bangladesh.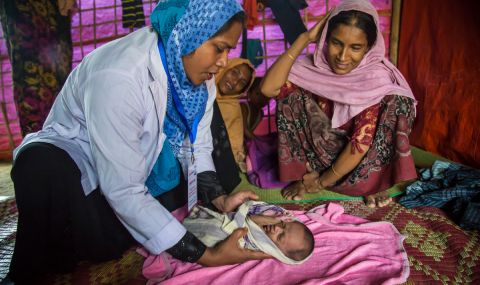 In her role, she has heard many terrible accounts from women and girls who have fled violence in Myanmar. "We listen to people's experiences and we try to support them to rebuild their lives. We tell them that what happened is not your fault. You have to survive, you have to live. And when you live, you have to live with dignity," Fatema says.
"I tell them that I am beside them, we are all working beside you. When we do this work as women, women can open up and talk to us more comfortably. They would not open up and share what is in their hearts as readily with men.
"I feel really great doing this job. It makes me feel really happy if I can lessen the women's suffering even by a small amount."
Women bring vital skills to disaster response
Women like Luijah, Emelline, Ismene and Fatema bring vital skills, resources and experience in emergencies. Ensuring that we work with women means that we do not overlook needs or vulnerabilities that are specific to women and girls. And by training women in leadership skills and disaster preparedness, they are better equipped to lead their communities – in times of crisis and beyond.
Photo credits: Alice Oldenburg/ActionAid, Noor Alam/ActionAid
Read next
28 November 2017

26 October 2017

15 September 2017