How child sponsorship helps fight the effects of climate change
9 December 2019
Child sponsorship with ActionAid is one of the most rewarding ways to change a child's life. It's also a surprising way to help fight the effects of climate change. Find out how.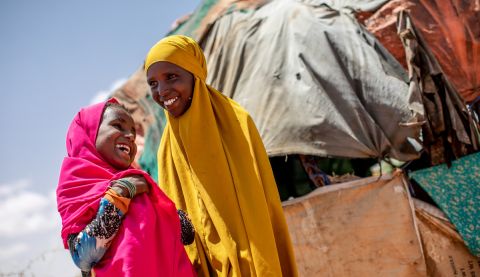 When you sponsor a child with ActionAid, you can make a huge difference to their life - helping provide a brighter future through education, healthcare, nutritious food and clean water. 
And there's a lot more to child sponsorship than meets the eye, because ActionAid's child sponsorship programmes also go towards lifting up entire communities, supporting them with the skills and tools they need for long-term change. 
Together, we're empowering communities to become more resilient to the changing climate - and build a more sustainable future.
Find out about the three benefits to child sponsorship you might not know about, which are helping to fight the effects of the climate crisis every day.
1. Child sponsorship helps prepare communities for climate change-related emergencies
In many of the countries where ActionAid works, extreme weather patterns caused by climate change are making disasters and emergencies more frequent. 
From the devastating drought in Somaliland, to floods in Bangladesh, these crises are having a huge impact on the lives of people living in poverty - and we know women and girls are disproportionately impacted. 
In Ke Sach, Vietnam, communities suffer annually from disasters like drought, landslides and flooding.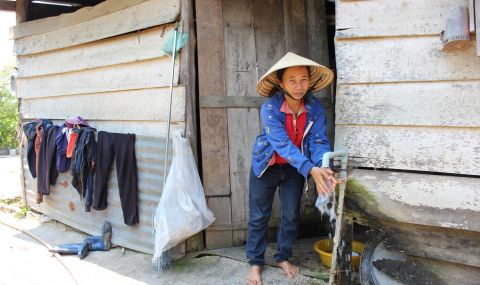 But funding from a child sponsorship programme in the region is helping to equip communities with the tools and skills they need to survive, including by organising training courses to use a new mobile app, called Participatory Data Gathering. 
The app is a disaster early warning system, sending notifications to people about potential real-time risks in their location, and our training sessions help people install and use the app to help save lives. 
We're also working in Vietnamese communities to run disaster drills/rehearsals so that, in the event of a crisis, people are better prepared to act fast, protect themselves and protect their families. 
2. Child sponsorship helps families grow climate-resilient food 
Climate change doesn't just risk lives because of floods other quick-onset disasters. 
The long-term degradation of soil can be devastating for communities around the world - particularly for families who rely on the land for their income. 
In rural Nepal, ActionAid works with farming women who've been struggling to produce enough food due to erratic rainfall caused by climate change.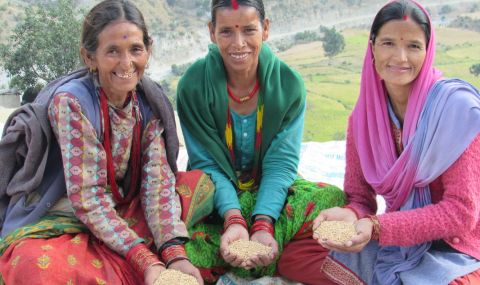 Jansara, above centre, explains: "Every year, because my harvests were so small, I faced a shortage of seeds during the planting season. Sometimes there were no seeds available in my village at all and I couldn't grow anything.
"As my family relies on the crops I grow for their food, the lack of seeds made our life miserable."
ActionAid supported the creation of a farmers' support group, and gave training in how to establish and manage a community seed bank. The bank allows farmers to safely store good-quality, drought-resistant seeds. 
We also provided an initial stock of wheat, millet, buckwheat and barley - enough for 400 families to grow food all year round. Jansara said:
I now have enough food for my family and we all lead much healthier lives. I'm also earning money from selling my seeds. I no longer have worry about paying for my children's education."
 
3. Child sponsorship helps communities fight for climate-resilient infrastructure
One of the best ways to create sustainable change is to empower women and girls to claim their rights.
That's why, in Bangladesh, we've been supporting a local women's groups to take action for their community.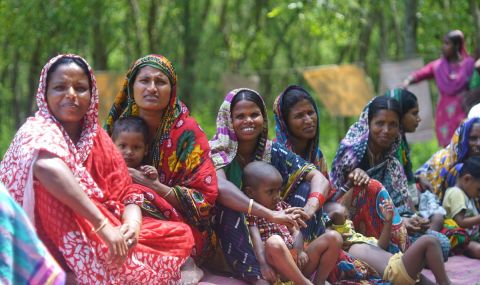 Madarganj Upazila, an area supported by ActionAid's child sponsorship programme, is located on the banks of Jamuna, one of the major rivers of Bangladesh. Living on the banks of this river is extremely challenging - when water levels rise, and the banks burst, communities are often marooned. 
It means farmers lose crops and children can't go to school, putting their education and futures at risk. 
Rahela, the secretary of a local ActionAid-supported women's group, told us that with no source of income, some families are forced to migrate to slums and wait until the flooding subsides. She said:
I live in a very remote place which gets affected by the flood. The narrow road across the fields is often under water making it dangerous to go to school, the health centre and market."
But with ActionAid's help, the group reached out to their local government to campaign for a new road, elevated above the level of flooding. It was accepted. 
Over 5,000 people in Rahela's community can now continue to farm and go about their lives - even during the rainy season. 
Sponsor a child this Christmas
Start your child sponsorship with ActionAid and you'll begin a special friendship with a child living in one of the world's poorest countries.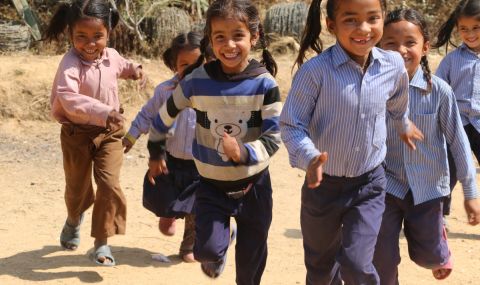 You'll get two handwritten messages a year from your child telling you about them and their life – they might be letters, drawings, or postcards – plus detailed updates about how they're getting on from our staff in their country.
You'll also know that, by sponsoring a child, you could help an entire community fight the effects of climate change, and develop a safe, sustainable future. 
Read next
9 June 2021

14 April 2021