Five ways to practise active feminist allyship
10 January 2020
Explore these five simple ways you can practise active feminist allyship to support the struggle for women's rights around the world.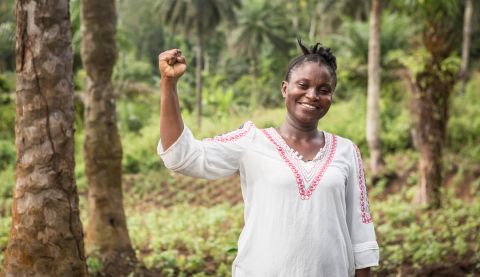 Over the past year we've seen a huge wave of mass feminist action in the UK and across the world.  
Activists won a hard-fought campaign to decriminalise abortion in Northern Ireland, thousands of French women rallied to demand state action on domestic abuse, and crowds of South African activists shut down Johannesburg to protest gender-based violence.  
Two years after #MeToo, feminist activism has not died down. It is as loud and forceful as ever. We just need to start paying attention and ensure we're learning from, sharing and supporting each other's struggles. 
To help you along the way, here are five simple ways you can practise active feminist allyship.
1. Broaden your perspective
Listen to and learn from other groups' struggles. Make a conscious effort to include and centre their voices.
If we are fighting for greater women's representation in politics, for example, we also need to draw attention to how gender intersects with factors like class, ethnicity and disability and results in further barriers for women with less privilege.  
As Audre Lorde famously said:
I am not free while any woman is unfree, even when her shackles are very different from my own'.
It's time for us to take the spirit of these words forward, and embrace a more inclusive and intersectional feminism.
Engaging with a broader range of perspectives enriches us all, allowing us to share this knowledge with others, form new bonds and more deeply understand our own struggles. 
2. Forge feminist connections across borders 
If you're a member of a trade union, feminist network, school or community group, you can link up with women in equivalent groups across the world.
Forging alliances with women across the world allows us to exchange ideas for mutual benefit and draw attention to less visible women's rights struggles in our own circles.
These international exchanges can be as simple as a video call or as involved as an overseas trip. 
Women in Rojava (Northern Syria), for example, have forged a number of connections with feminists across the world, encouraging greater knowledge of their region's governance model.
Its model is one which puts gender equality at the heart of its institutions, through structures like co-presidency and women's councils.  
And thanks to international exchanges, Rojava's model has now been replicated in Europe - there are now similar women's councils in Hamburg and London.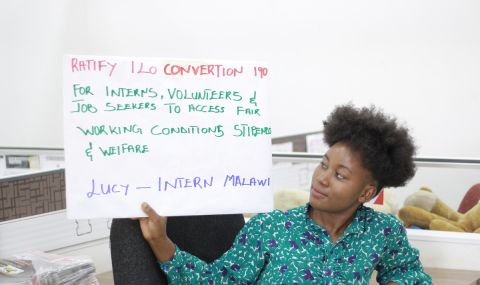 3. Lobby your political representatives 
Whether you're voting them in, watching them debate or meeting them in your constituency, make sure women's rights don't fall off the political agenda.
Whether it's trade, climate change or aid, political decision-making always has a significant impact on women, who experience higher rates of poverty, higher vulnerability to violence and higher levels of displacement by climate change.
4. Think before you buy
Whether it's fast fashion or chocolate, systems of gender-based violence and exploitation often lie behind the products we buy.
A recent ActionAid survey, for example, found eight in 10 global garment workers had either experienced or witnessed abuse at work.
And recent research has shown several profitable cocoa companies rely on women's forced labour and exploitation.
The cost of producing and exporting products around the world also wields a huge environmental cost - the fashion industry, for example, is responsible for 10% of the world's carbon emissions. 
Shopping 100% ethically may be impossible, but there are many ways you can reduce your social and environmental footprint.
Firstly, you can consume less - when it comes to fashion, consider taking up the mantle of 'buy less, buy better' and purchasing second-hand items in charity stores, vintage shops or online auction sites.
Secondly, buy fair-trade or locally-sourced products if funds allow.
And thirdly, take action - our individual purchases won't change the world but consumer lobbying has led to several corporations improving labour rights and reducing environmental harm within their supply chains.
Fashion Revolution1 and Make Fruit Fair2 are both good places to start. 
5. Join global moments for gender equality 
From 16 Days of Activism Against Gender-Based Violence (25 November - 10 December) to International Women's Day (8 March), there are countless global moments you can join to raise awareness of gender inequality and gender-based violence.
IWD is a particular focal point for feminists around the world. Having first been established to promote universal suffrage and equal rights, it's now a cornerstone of women's rights events all over the world.
Why not join an IWD march, talk or celebration in 2020, or organise your own event locally?
Or if you're feeling a little bolder, you could take part in the Global Women's Strike3 . Also held on 8 March, the day of strike action encourages women worldwide to refuse paid and unpaid work, in recognition of women's unrecognised and under-valued labour. 
Get involved with ActionAid's campaigning work today
In the coming months, we'll be campaigning for women and girls rights everywhere, from protecting women worker's rights, to ensuring UK aid helps the world's poorest.
Sign up to campaign with us today. 
Read next
25 November 2021

19 November 2021