On Day of the Girl, girls' education is still in lockdown around the world
7 October 2020
Covid-19 school closures around the world have hit girls the hardest, affecting their education, their rights and their future. This International Day of the Girl, we are shining the spotlight on the unique challenges facing girls during the coronavirus pandemic.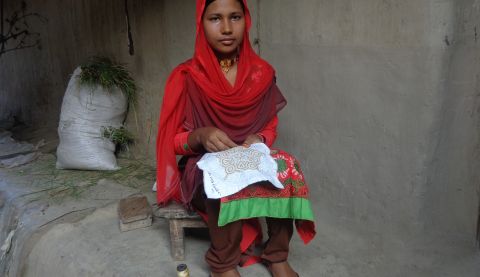 Tamanna is 13 years old and lives in the Sapahar district of Bangladesh. With schools closed during the coronavirus pandemic, you'll find her playing dhapa kitkit (a local game similar to hopscotch) with her neighbourhood friends, feeding her ducks or helping her mother clean the dishes and hanging up laundered clothes to dry in their backyard.
Going to school was often a challenge for the poorest girls around the world before Covid-19. But since schools and after-school clubs shut to prevent the spread of the coronavirus,  girls have faced new challenges, and new research warns us that many may struggle to return when schools re-open.
For Tamanna, her educational and creative outlet was suddenly out of reach. Instead, she found herself taking care of family members and taking on a larger share of the household chores.  Tamanna said:
"I miss the bright faces of my friends and playing with them in the large green field. I miss the teaching of teachers very much. I cannot participate in child forum activities, and creative learning classes on dance, song and drawing in my child development centre because these are stopped right now due to the coronavirus."
Girls struggle to return to school after the Covid-19 pandemic
New ActionAid research shows girls in the world's poorest countries are struggling to return to school due to the impact of Covid-19 on their family lives. Many girls are instead facing child marriage and increased burdens of unpaid care work. A whole generation of girls risks missing out on the education they are entitled to. 
Our survey of 130 teachers in 14 countries, Bangladesh, Brazil, Cambodia, Ethiopia, Ghana, India, Kenya, Malawi, Mozambique, Nepal, Nigeria, Rwanda, Somaliland and Zimbabwe provides a snapshot of teachers' concerns for a generation of girls. 
Around three in five teachers surveyed say a higher drop-out rate for girls (59%) and poorer children (62%) will be a long-term impact of the pandemic. 
Nearly half are concerned about increases in teenage pregnancy (41%) and child and forced marriage (45%) due to the Covid-19 crisis.
Some of the biggest issues preventing girls from returning to school are parents being unable to afford the cost (62%), unpaid care work (59%), child labour (51%).
Most schools (81%) made some provision for distance learning, but 76% of teachers said that less than half of their pupils were able to keep up with their lessons. 
The factors that are holding girls back during the crisis
Families living in poverty have had to face difficult decisions as millions of people around the world were forced out of their livelihoods when coronavirus reached all corners of the globe. 
People who rely on informal labour or daily income suddenly found themselves with no way to support their households. With no social security net or savings, families have had to reconsider expenses such as school costs. 
I felt desperate when I saw the majority of the pupils not returning to school," he says. "The future of the children will be darker. I fear they will work in casual labour as their parents do and will struggle to survive." 
With increased care and workload at home and lack of income coming in, families struggling to make ends meet are finding themselves weighing up the opportunity cost of school, and boys' education can often take priority over girls' schooling.
Many girls are now finding themselves helping out at home, looking for paid work and in the worst-case scenario being made to marry as a way to reduce family expenditure. 
Husein Goohe, a headteacher at a school in Gabiley district, Somaliland, said just 13 pupils – all boys – returned to school after it reopened in July, down from 119 before Covid-19.
Goohe said all 50 girls at the school were unable to return, mainly due to early marriage affecting girls as young as 12.  
"I felt desperate when I saw the majority of the pupils not returning to school," he says. "The future of the children will be darker. I fear they will work in casual labour as their parents do and will struggle to survive." 
In a community dependent on agriculture hit by a devastating desert locust infestation and small business owners bankrupted by lockdown, he says:
"The parents prefer girls to stay at home and do domestic work." He adds that early marriage is the issue most affecting girls during the Covid-19 crisis and female genital mutilation has also increased. UNFPA estimates that up to 2 million additional girls are at risk of FGM, and up to 13 million girls at risk of child marriage due to delayed programmes and economic hardship as a result of Covid-19. 
Around the world, 12 million girls are married before their 18th birthday every year, and 1 in 5 girls becomes a mother before that age.1  Girls who get married before the age of 18 are more likely to drop out of school and finish fewer years of school than girls who marry later.2
The research confirms that girls are too often on the front lines of crisis and disaster and that Covid-19 has exacerbated the inequalities they regularly face.
The hard-won progress on girls education and prevention of violence and harmful practices is now at risk.
Attending school provides a protective environment for girls. Girls clubs and safe spaces also provide vital systems of support by building their self-confidence and life skills, and access to supportive female mentors.
Through its child sponsorship scheme and funding from players of the People's Postcode Lottery, ActionAid is ensuring girls get an education and have access to these safe spaces and girls' clubs.
On International Day of the Girl, sponsor a girl to go to school
The coronavirus crisis hasn't erased Tamanna's hopes. She dreams of going back to school and participating in her after-school activities again soon.
"I believe the coronavirus will soon be gone, and we will be able to go to my child development centre again as before. I can go to school, I will be able to participate in a variety of discussion meetings again with my child forum friends. I can play as much as I want. I can freely have fun with friends like before. I always pray to God that everything becomes normal as before. Thank you very much to all of you for being by our side in this difficult time." 
For International Day of the Girl, we are calling on your support. Girls' future aspirations and capabilities must not be impacted by this crisis.
This International Day of the Girl, your support can ensure girls rights and futures are protected and that every girl gets access to an education.
Your sponsorship will make a huge difference to a girl and provide hope for her future.
Sponsor a girl today and see for yourself the difference your support can make. 
Top image: 13-year-old Tamanna has not been to her classes since her school closed in March after the coronavirus pandemic hit. Credit: Md. Deloar Hossain/ActionAid.