8 weird and wonderful facts you didn't know about cycling
19 March 2021
Whether you're a roadie, newbie, Boris biker, a fixed-gear freestyler or a Shoreditch hipster cyclist - here are some fun facts that you probably didn't know about your beloved two-wheeled friend.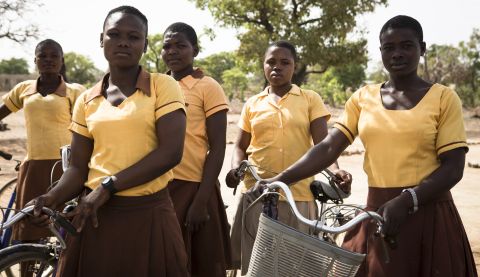 How much do you know about your trusty bicycle? Find out our top ten facts about cycling and if you're feeling inspired, why not sign up to take a cycling challenge with ActionAid? 
Cycling can change lives
Now for the most important bit.
By signing up for a cycling challenge with ActionAid, you can use your passion for cycling to help change the lives of women and girls around the world.  
We'll support you every peddle of the way with fundraising tips and handy resources. So what are you waiting for - why not saddle up and get ready to make a difference?
Ruth McDowall/ActionAid; "Wooden bike" by magnetbox is licensed under CC BY 2.0; Guiness World Records; Robert Bye @ Unsplash; Solé Bicycles @ Unsplash; Didi Senft; "File:Lance Armstrong - Tour de France 2009 - Stage 21.jpg" by Hyku on Flickr is licensed under CC BY-SA 2.0; Joe Caione @ Unsplash
Read next
3 August 2021

18 December 2020