Why I braved a big haircut to raise money for ActionAid
3 August 2021
12-year-old ActionAid supporter Wallace braved a big chop and raised over £2,500 (so far!) for ActionAid. Find out why she chose to do it.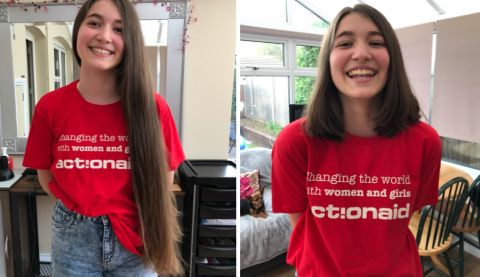 I have been growing my hair my whole life - and I could just about sit on it. I started to find it hard to manage, so thought others could benefit from it.
I have donated my hair to the Little Princess Trust, as they make free real hair wigs for children and young people who have lost their hair to cancer treatment or other conditions. My hair will be donated to contribute to a free hair wig for someone who needs it. I don't need it but, someone else does!
I chose to also raise funds for ActionAid because during the pandemic I wasn't able to go to school, I missed being at school and spending time with my friends.  
I was lucky enough to be able to do school online at home and talk to my friends on the phone.  
I found out that there are 15 million girls that won't ever get the chance to go to school and learn about the world and be the best they can be.
The increasing changes in our climate mean there are more and more people living in refugee camps as they run from conflict or famine.  
Even those that do live at home often don't have running water or even the soap to wash their hands and keep themselves safe from disease. 
What my friends think about my haircut
My friends think it's a great way to raise some much-needed funds for charity - and fab that my hair is going to be useful rather than just be left on the hairdresser's floor!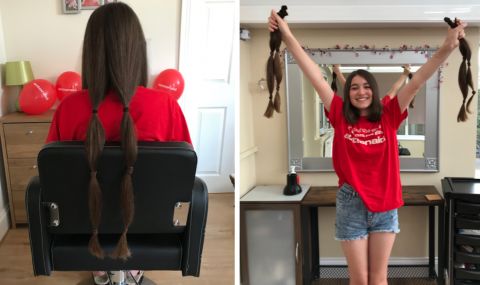 Will I miss my hair?
I certainly won't miss my mum brushing out the knots and plaiting it!
The support I've received from friends and family
I have been blown away with the amount of money that has been raised. People have been so generous and supportive; hopefully many of them will have looked at the ActionAid website and the Little Princess Trust website and learn more about the two charities what they do and how they help.
Cutting my hair doesn't seem such a big thing when you understand what others have to live with every day. ActionAid have been fantastic too and I love the T-shirt. 
How I feel after the haircut
My hair was cut on Tuesday 20th July. 
I am so pleased I am able to donate 20 inches in length to The Little Princess Trust - hopefully it will make someone smile and feel confident again.
I can only hope that they will feel as happy and excited as I was when I opened my eyes and saw my new look.
I want to thank everyone that has helped raise the funds for ActionAid – the support has been amazing – thank you. 
Support Wallace's fundraiser
An enormous thank you to Wallace for your support - what an incredible way to support ActionAid and the Little Princess Trust! 
Wallace has raised more than £2,500 so far, but could you donate to help her raise even more?
Read next
4 March 2022

23 December 2021