Our Christmas appeal 2021: Why we want to let girls learn
15 November 2021
In countries like Kenya where I am from, girls are being held back by poverty and the current Covid-19 pandemic. Right now, it's imperative that we don't roll back on years of progress made on girls' education. This Christmas, you can help avert this crisis.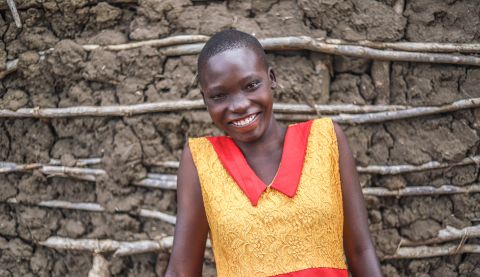 Let me tell you about Happy. A student of mine from Malindi, Kenya, Happy had to drop out of school at a very young age when her parents could no longer afford her school fees. 
Only after Happy's family found out about a local, ActionAid-supported catch-up centre – where she could get back to studying without having to pay out of their pocket – was Happy able to get her education on track again.  
Today, Happy, 13, is studying English, Maths, and Kiswahili – Kenya's national language and her favourite school subject. After she finishes school, she wants to become a tailor or a doctor. 
My name is Jeniffer, I am 26 years old, and I am a teacher at an ActionAid-supported catch-up centre in Malindi, Kenya, that supports girls to stay in education.
When Happy came to us she seemed miserable and down about life. She didn't believe that the centre would be able to help her get up to speed and had serious doubts about her own future.  
But Happy is a bright and curious girl. She reads ahead of her classes and asks what things are, and what they mean. Always looking forward, she asks me, "Madam when we finish this chapter what will we do next?"
Through the catch-up centre we have given Happy new courage. She now knows that she can now be truly successful in life.  
Education in Kenya 
However, in a country where 660,000 girls are out of primary school alone, Happy's is just one of the few positive stories.  
Poverty, limiting cultural attitudes, lack of sanitation and facilities, and most recently the Covid pandemic have all made education inaccessible for many girls in countries like mine. 
It is no surprise then that data shows that nine of the top 10 toughest nations for girls to get an education in, are located in sub-Saharan Africa1 . Even though Kenya doesn't make the list, we still face the same barriers to keeping girls in school.
Barriers to girls' education 
There are several obstacles we must fight to let girls learn. 
Culturally, there is still a lower value placed on a girl's education compared to a boy's. And even if families want to send their girls to school, fees and other costs can be prohibitive for those already living in poverty.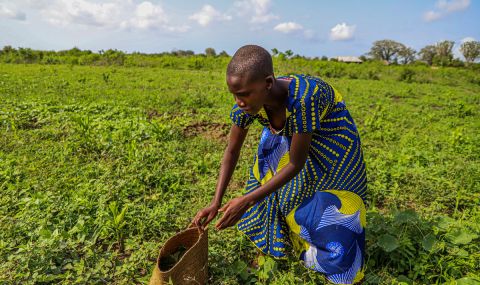 When some girls do make it to school, a lot of them end up missing classes or dropping out of school altogether when they don't have adequate menstrual protection or sanitary facilities. 
The current Covid-19 crisis has made a bad situation worse. Many girls I know ended up looking after family members, doing more household chores or helping their struggling families bring in income when the world went under lockdown.  
But we know that education is a way out of poverty for girls and their families.  
Why do we want to let girls learn?
Girls in poorer countries face distinct disadvantages — because they are young, female and live in poverty.  
When girls don't get a chance to go to school, they lose crucial opportunities to improve their lot in life through knowledge and expertise that will help them secure jobs and financial freedom. They also miss out on a host of other life skills and tools that help them navigate the world and make authentic choices about their own lives.2
But if that wasn't enough, we know that educated girls are a strong force for change. The effects of their education ripple through their families and communities too. 
When girls are educated, child marriage, infant mortality, FGM, and domestic violence rates go down.  And instead, we see an increase in girls' empowerment and engagement in political and public life. Not only that, but educated girls can help improve their local and even national economies.3
That's why ActionAid's approach to education is so important.
What is ActionAid doing to help 
ActionAid works with communities to address the root causes that keep girls out of school: changing attitudes, and supporting schools, parents and community members to better understand the value of girls' education.  
We provide simple but effective solutions to ensure girls stay in school, like supplying girls with menstrual products so they don't miss a class, or drop out of school altogether when they have their periods.  
And for those girls who've already missed out on their education, we run a network of catch-up centres where girls can learn literacy and other life skills.
What are catch-up centres and how do they help? 
ActionAid Kenya has been supporting more than 150 catch-up centres in the country, attended by over 5,000 girls. This includes centres in Malindi county as part of the 'Education for Life' programme. 
The centres provide girls, aged between 10 and 19, with a chance to gain basic literacy and numeracy skills. They also give girls an opportunity to learn about their rights, opening the door to an education that lets them take control of their futures.
Many of the girls have either never been to school or have dropped out at an early age, like Happy.
ActionAid and its partners work with the girls and their parents to ensure they all feel invested in the girl's education. Once they complete the nine-month course at the catch-up centres, the women and girls either return to formal schooling, pursue apprenticeships, explore vocational training or train to become entrepreneurs.  
How you can help girls learn 
This Christmas, you can give the gift of an education.  
Set up a regular gift and help fund ActionAid's network of projects that help keep girls like Happy in school, and allows them to catch up on the learning they've missed. 
You can help us by donating to cover a girl's tuition fees or buying her a school bag or even providing much-needed sanitary pads.  
I now fully expect Happy to complete her primary and secondary education and go on to college after the catch-up centre. And I firmly believe that at college, if she chooses the subject she likes, she will grow up to be a very capable person and depend on herself through life.  
Today, Happy looks forward to getting a job and earning enough money to build her parents a house — thanks to your help.  
If you give just £3 a month to ActionAid, as part of our Christmas appeal, you could help ensure more girls can go to school. And that we leave no one behind.  
Top banner: Happy, 13, goes to a catch-up centre in Malindi, Kenya. She loves learning Kiswahili and wants to grow up to become a tailor or a doctor. Esther Sweeney/ActionAid. Other images: Happy, 13 looks for vegetables at her parents' farm. During the Covid-19 pandemic, many girls ended up doing more unpaid care or other work instead of getting an education. Esther Sweeney/ActionAid
Read next
23 December 2021

6 December 2021

24 November 2021