Give girls a hand: women share their advice for girls
3 August 2022
It can be tough being a girl. That's why women have been sharing the advice they'd give to a young girl growing up today - to show them they are strong, they are brilliant, and they can do anything that boys can do.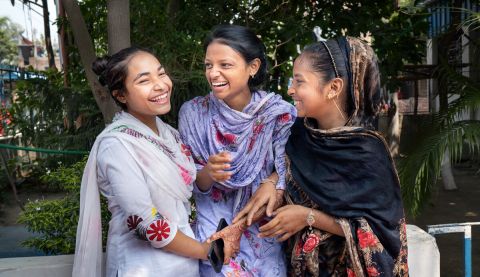 If you could talk to your younger self, what advice would you give her? Women have been sharing all the amazing advice they've learned on their journey to adulthood - read just 35 of the pearls of wisdom below. 
Want to get involved? Submit your own advice to #GiveGirlsAHand here and contribute to this growing resource of wisdom for girls.
"You are worth so much more than what you look like. At the end of your life, people will remember your character, your kindness, and your compassion rather than your size or shape. Be true to yourself and treat others the way you'd like to be treated!" - Katie, London
"Surround yourself with good female friends. Treasure each other, nurture each other, and stick together for life." - Sue
"Be true to yourself, whatever the crowd are doing. Do not bend to be like them or react to their comments. It's great to be different. Dig deep. One day, your true self will lead the crowd and they will be the ones left behind." - Caro, Nottingham

Believe in yourself and trust your own judgement, don't be swayed by others opinions. And please, you are beautiful in your own right, don't compare yourself to anyone else 💜

— Mael Muire 👸 💙 💛 (@Becky46832359) July 15, 2022

"If someone tells you you're not worthy, that you're too fat, too ugly, too young, too old, too stupid, that you're "only a girl", that your dreams don't matter, that you'll fail, that you'll never be enough; repeat (like a mantra) after me. #PUSH -- Persist Until Something Happens. Do not listen to and/or believe 'someone'." - Jessan, Warwick
"Have confidence in your convictions always." - Gwen, Leeds
"When you are young, you look around and compare yourself to others. Never do that! We are all unique. We all have a different finger print, the iris in each eye is unique. There will always be someone who wishes they could have some of the attributes that you have! Enjoy being you and do your best to achieve the best in anything that you aspire to do!" - Rosamond, Edmonton

"Smash the patriarchy. Remember to look after yourself and gather your strengths so that you can do this in the long term. Work with others." - Anonymous
"You are an important person - listen to yourself and to your body." - Anonymous
"Enjoy your youth. Try new things. If you never try, how will you know? Be yourself. Be kind." - Mell, Hull
"Do not let fear stop you from doing anything in your life. Things are not as scary as you think they are. Take a deep breath and go for it. Never be afraid of anyone or worry what others will think about you. Who cares what they think. You have one life and youth doesn't last for ever. Make the most of your life." - Rashidah, London
"As a first generation British-Asian, i know first-hand life is not easy for us girls! My advice would be stay true to yourself and do the things that bring you joy in life. Tradition, religion and cultural norms are all good and well but true beauty comes from within. Be kind to yourself, be good to others and be happy! Nothing else matters :)" - Nillz, Cardiff

Be strong, be true to yourself and don't let anyone walk all over you.
Education is key. Diversity is important

— Rebecca Lockley (@RebeccaLockley7) July 25, 2022

"Don't let anyone tell you you are too loud, too opinionated or too ambitious. If they are telling you these things, it's because they are intimidated. They can see your power, and they don't want anyone else to see it. They are afraid you might 'take' their power. Embrace your power and don't let anyone snuff it out!" - Emily, York
"Never forget that diamonds, the most beautiful prized stone of all, are created under intense pressure. So if times are tough, it's because you're becoming a diamond 💎" - Cate, Milton Keynes
"Leave someone if they hit you, the first time they hit you." - Anonymous
"Trust yourself & those who wish you well. Do not listen to people who tell you that you cant do things because you are female. Blessed be." - Denise

"Don't rush through life, you might look ahead & say 'when I've completed this' or 'when I've got that job / that relationship etc' While it's great to have ambitions, find joy in where you are right now! Don't let experiences, pass you by - you want to go, on that holiday, find a way to pay for it, you'd like to do a bungee jump / fast theme park ride etc but you're a little scared? face the fear & do it anyway - you'll be so proud of yourself & remember these moments for a very long time. Money will come & money will go, but experiences last a lifetime! Sad times happen, they are unavoidable, take time to grieve / recover / care for yourself and when you're ready, move on. Live, laugh, love is a good quote for your life! Enjoy!!" - Susan, Willenhall
"Don't sit waiting till you're *good enough*. You're better than that already! Just go for it! Make it happen!" - Jane, Hull
"Always be honest particularly with yourself. Treat everyone as your equal, they are not better than you and you are not better than them." - Anonymous

Ignore that voice inside that tells you you're not qualified for this, or not good enough for that, and go for it!

— 💙KT *pro-PR* PARKER 🇫🇷🇬🇧🇪🇸🇺🇦🌻 (@lunaperla) July 21, 2022

"Hold your own. If your gut is telling you something, push for answers, push for your goals & never let someone say you can't. Can't isn't a word, it just means you haven't yet." - Rebecca, Highlands of Scotland
"Please do not let other girls beauty make you feel insecure about your own, flowers and sunsets both look very different but they are both beautiful in their own way :)" - Georgia
"You are enough to look after yourself physically, financially, mentally and spiritually. Evolve in ways where you don't need to depend upon anyone else." - Sudakshina, Reading
"You are wonderful. You are important. You are an inspiration. Even when you are feeling at your worst you are brighter than the stars in heaven. All things will pass but you are love and will always be loved. Don't listen when they try to tell you otherwise. Listen only to the still small voice within you and let your love shine out for all to see." - Jacqui, Birmingham
"Know your worth. You are a precious resource. Be kind, be brave, be honest, be generous- with your talents, your time and your love. And laugh a lot." - Nicola, Twickenham

"Never ever say no to something you really want to do because you're shy or worried that you might not be good enough. If you say no to an opportunity because of the above you will regret it. Never succumb to peer pressure to fit in. Feel good about yourself at all times. Be courageous. Study hard. Be independent. Look out for and embrace new experiences and enjoy them. Think about what it is that you might want to do with your life and set yourself goals as to how you will achieve them. Smile often. Pat yourself on the back. Develop a strong friendship network with like minded peers. Learn how to say no so as not to be put upon by anyone. Enjoy and embrace life. Find a sport that you enjoy. Get enough sleep so that you wake up refreshed each morning. Dream big." - Pauline, Harrogate
"Your worth as a human being is not measured by a man's opinion of you. Men are not the gatekeepers of a woman's value - do not measure yourself by their parameters. Create your own, and live by them." - Lyra, London

Live the life you want to live, not the life you think that you are expected to live.

— Adam (@Adam69969177) July 26, 2022

"Believe in yourself. You can do or be anything you want to do or be if you believe it strongly enough. Failure along the way is part of the journey and how we learn. Get up the next day, dust yourself down and keep going. Just keep believing and you will make it. You are beautiful, wise and powerful. Listen to your inner voice, your gut instincts and stay true to yourself, your beliefs - whatever they are. One last thing - read as much as you can - fiction and especially biographies - of strong women who have succeeded against all the odds: Maya Angelou, Toni Morrison, Alice Walker. They made it and so can you. Good luck!" - Helen, Broadstairs
"Don't let Social Media and the Media cause you to be anxious about life. Keep appreciating all the positives and find things to enjoy in every moment. Focus on all the good things that are happening in the world. Seek out good news. Love yourself and recognise your many qualities." - Jane, Stockport

You ARE enough...you are precious beautiful...worthy...and loved. Wish I had been taught more of that when I was young xx

— pat Selway 💙💉🏴󠁧󠁢󠁷󠁬󠁳󠁿🇺🇦 (@PatriciaSelway) July 21, 2022

"Not every woman has to give birth to a child to have a successful life. You can still mother children, if you feel that this is your vocation. You don't have to be biologically related to them. Mother is a verb as well as a noun." - Sally, Leicester
"Have courage and be proud of it. Even if it takes some time. Love yourself ❤" - Anonymous
"Know your worth." - Magnolia, Southend on Sea
Give girls a hand
Have you been inspired by these fantastic pieces of advice? Why not contribute your own? 
Add your own advice and contribute to our growing bank of advice for girls, written by those who know best - women who've been through it themselves.
Read next
6 December 2021

22 November 2021

15 November 2021