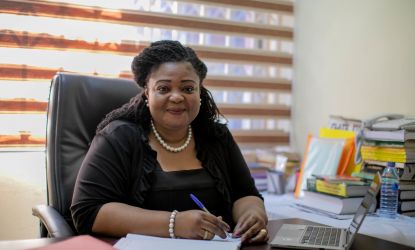 Irene is a lawyer in Ghana 
Irene is a lawyer, and founder of the Ghana Legal Assistance Network, defending survivors of domestic violence. She's also a member of the International Federation of Women Lawyers, a legal rights organisation focused on women's rights and access to justice around the world. She's seen just how hard it can be for women to access justice in Ghana. 
"It's not easy to come out as a survivor," Irene says. "There is no system that will protect you from the public...from the moment you speak out, people start pointing fingers and saying you're a bad girl, you're a dirty girl." 
Irene is frustrated by the process of attempting to access justice in Ghana. "Ghana has one of the best domestic violence acts in the world – but when it comes to implementation it's very frustrating," she says. "If someone suffers abuse, the first place they need to go is a police station, but the police see it as normal. They think if nobody's dead, nothing terrible has happened." 
Irene works with hundreds of survivors every year, subsidising 95% of the cost women need to go to court. But she knows more needs to be done. In the future, Irene wants the Ghanaian government to fully implement and fund their domestic violence act and provide free medical care for survivors. 
Join Irene's call for justice to be put back in the hands of survivors
The state of access to justice
Have you been affected by violence?
If you or anyone you know has experienced violence, there are services that can help. You don't have to report the assault to police if you don't want to. 
These services may be able to help you: 
Rape Crisis – 0808 802 9999 
A free national helpline for women and girls who have experienced abuse, rape and all forms of sexual violence 
24-hour National Domestic Violence Helpline - 0808 2000 247 
A 24-hour national service for women experiencing domestic violence, as well as for their their family, friends, colleagues and others calling on their behalf 
Galop, the LGBT+ anti-violence charity 
Support for LGTB+ women, men and non-binary people who have experienced hate crime, sexual violence or domestic abuse. They also have a dedicated service for trans people 
The Survivors Trust  
Support for all survivors of rape, sexual violence and childhood sexual abuse, no matter how long ago it happened