Ending street harassment: Safe Cities for Women
Street harassment statistics
15 seconds
how often a woman is assaulted in a public space in Sao Paolo
92%
of women in New Delhi have experienced violence in public
2 in 5
women polled across Brazil, the UK, India and Thailand have experienced harassment before the age of 18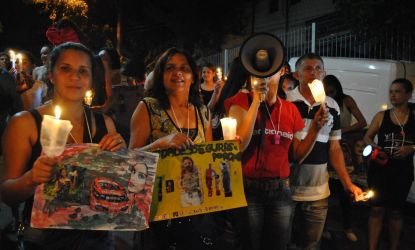 Shining a light on violence against women in Heliopolis, Brazil
In 2014, the women of Heliopolis in Sao Paulo, Brazil, had had enough. Their part of the city was full of streets with little or no lighting, making travelling after dark dangerous for women – one campaigner told us how her cousin was assaulted by a man while on her way to a night class.
Together with ActionAid Brazil and the region's Women's Movement, they decided to do something about it. The women organised a 'lanternaço', or flashlight march, taking to Heliopolis's most dangerous streets en masse holding torches to demand public lighting.
The march attracted the attention of government officials, who agreed to do something about the lighting situation. Heliopolis eventually became the first community in Latin America to receive LED lighting.
Mayara, a young activist from the flashlight march, told us:
"Participating in this process has completely changed me. It made me see in practice that it is possible to transform our lives ourselves."
How campaigners helped tackle street harassment on Vietnam's buses
More and more people in Vietnam have moved to its cities. Urban areas are areas are exactly where women and girls are at higher risk of street harassment, crime, and violence.
To tackle this, ActionAid Vietnam and other local groups in the country started doing research, asking women in five Vietnamese cities what was making them so unsafe in public spaces. One of the places that women and girls felt most unsafe was on buses and at crowded bus stops, where they would often be touched or harassed by men.
ActionAid and their partners lobbied local governments to start seriously making their cities safer for women, and in 2015 they started to win. The government of Ho Chi Minh City agreed to install cameras on all public buses in the city, something that ActionAid had specifically recommended to make Vietnam's women safer.
Nguyen Phuong Thuy, a campaigner with ActionAid Vietnam, said that installing cameras like this "is one of the most effective ways to guard against acts of sexual harassment against women and girls".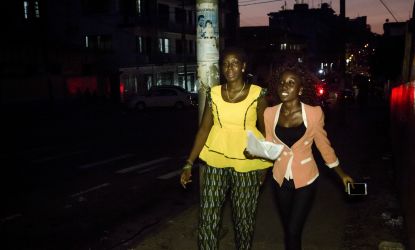 How to stop street harassment on campus – a victory in Liberia
In the capital city of Monrovia, ActionAid Liberia works with women's groups in universities to help female students network, and share their experiences. Jimisha Dahn, a member of one of these groups, told us:
"We want to break the silence around sexual violence, harassment and rape."
Jimisha's group, Women Speak, was set up at Monrovia's United Methodist University in 2012. They started meeting weekly to discuss issues affecting women students, and found that one common problem was the lighting on their campus. Without good lighting, women often had to go to evening classes in the dark, leaving them especially vulnerable to street harassment and assault.
Working together with ActionAid, Women Speak successfully lobbied the government to fit lights on campus. Once the lights were fitted, women went from making up a third of evening class students to making up almost half. Jimisha said:
"We now have lighting on the campus. This has really helped us a lot – it means we feel safer attending our classes."
Stop street harassment and violence against women: become an ActionAid campaigner
We campaign across the world to make cities safer for women, and to tackle the root causes of poverty and inequality. We pick the issues that we know will make a difference for the world's poorest people, and we don't give up.
We couldn't do this without our global network of campaigners putting pressure on governments, building solidarity, and helping us call out the people in power.
You can be part of this – sign up as a campaigner now to get started.
Top image: ActionAid's safe cities campaign. ActionAid