The global economic crisis is affecting us all this winter. In the poorest countries around the world, it's pushing millions of people into acute hunger and poverty, as the costs of everyday essentials soar: in some communities, the cost of bread has risen 163% and the cost of fuel 253%.1  
But there is hope. In these communities, women and girls are finding innovative solutions to the hunger crisis, so they can feed their families in a more sustainable way, long into the future.  
If you give a gift to our Christmas appeal today, you can make an investment in transformative projects. For example, women who are adopting climate-resilient farming methods, or setting up community seed banks.  
You can support women to grow a future without hunger. 
How to support our Christmas appeals
These are just some of the ways you can donate to our work at Christmas.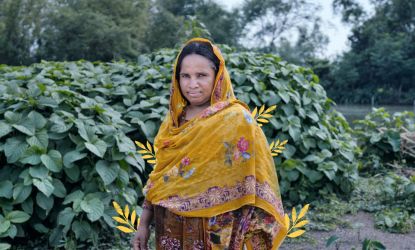 Farming the future: Bulbuli's story 
Bulbuli, 38, is a farmer, activist and head of a local women farmers' group in Bangladesh, which she set up with the support of ActionAid.   
She says living costs are "soaring higher and higher" in Bangladesh:
Everything has doubled in price. As the price of oil has increased, everything has increased." 
But thanks to the farmers' group, she and other local women are finding solutions. They've been adapting their farming methods to grow food more reliably and sustainably.  
Now, Bulbuli owns a small plot of land and grows vegetables like aubergine and pumpkin – enough to feed her family and sell any surplus at the local women's market. 
"Women farmers groups bring women together," she says. "Unity is a strength for us."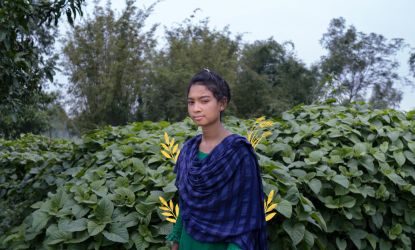 New independence: Rumana's story 
"I love that my mother is a farmer - it makes me proud to watch her every day and do something she loves," says 16-year-old Rumana, from Bangladesh.  
Around here, women don't usually work and farming was once seen as a man's job. But this is changing. Now nearly all the women in our village farm and earn a living." 
Rumana lives in a multi-generational home, which she shares with 22 others, and has been hit hard by the cost of living crisis. But it's her mum Srimoti, a farmer and member of a local women's group, who is helping them to make it through. 
"My mother has found a new sense of independence since she started farming," Rumana says. "She is able to contribute towards our household and I hope to one day be self-reliant like her too." 
"Everyone says it's important for girls to know how to cook but I think it's more important that we know how to grow. Being able to grow your own food means that in a crisis, you will still have something to survive on." 
The women your donation could support
Footnotes
1https://actionaid.org/sites/default/files/publications/Doubly%20Devastating%20-%20ActionAid%202.pdf
Farzana, member of a local women's farming collective in Bangladesh. Fabeha Monir/ActionAid
Page updated 2 November 2023