Leave a gift in your Will
Supporter testimonial
Hear from our supporter Linda Marsden on why she is leaving a gift in her Will to ActionAid.
Make your will this November with Will Aid
ActionAid has partnered with Will Aid to give you the chance to have your will professionally drawn up by a qualified solicitor this November.
Instead of paying a solicitor's fee, you are invited to make a voluntary donation which will help fund life changing work around the world. 
All donations made via Will Aid are divided between the nine participating charities – including ActionAid. Use Will Aid's online postcode search to find a solicitor near you, or call them on 0300 0309 558 for details.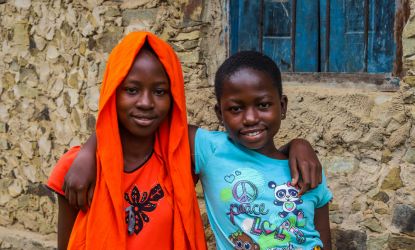 How your gift can help future generations of women and girls
Diana (left), 12, and her friend Emily attend an ActionAid-supported girls' forum in Kenya.
More than 660,000 girls are not in primary school here, which is why ActionAid runs a network of projects to support girls into school, keep them from dropping out, and help girls who've missed out on learning to catch up.
At the girls' forum, Diana and Emily are learning about their right to an education, as well as topics like early marriage and sexual and reproductive health and rights.
"What makes me happy about the girls' forum is we are taught good things," Diana says.
"I love Florence [her teacher] because she teaches us we should not get married early."
Supporter testimonial
Read Ruth Cook's testimonial on why she chose to include ActionAid in her Will.
"As a lifelong feminist, I am very supportive of the focus that ActionAid has taken on women and girls. There is a lot of evidence that if you educate women and give them access to health, that has the biggest impact on future generations.
On an emotional level, I am really pleased that my money will go towards supporting projects that help women and girls.
I have had a Will written for quite some time now and ActionAid has always been included in it.
I am in quite a financially secure position, and of course, my children will receive the majority of my inheritance, but it was very important to me that a percentage should be left to a charity. My close affiliation with ActionAid made it easy to decide whom to leave a percentage of my inheritance to.
If you are thinking about your legacy and what happens beyond your death – after your family benefits from the finances you have accrued in your lifetime – it is also really important to think about what would have the most impact around the world.
In that sense, I feel confident that a gift left to ActionAid will be money well spent and will make a difference to people who have very little."
Image: Diana, 12, attends an ActionAid-supported girls' forum that is helping her to get an education. Esther Sweeney/ActionAid