Not This Girl: UK Aid Match appeal explained
£1.1 million
doubled by the UK government to tackle violence against women and girls in Kenya.
Where will the funding from the UK government go?
The funding doubled by the UK government is supporting a three-year project in three locations in rural Kenya; Kilifi, Garissa and Homa Bay.
The project started in October 2018 and will continue until October 2021. Its aim is to reach over 5,000 girls and nearly 3,400 community members in the counties of Kilifi, Garissa and Homa Bay in Kenya. 
ActionAid is helping local women's rights networks and groups working in these areas respond to, prevent and report cases of violence against girls.
Our project activities
1. Providing girls with access to safe spaces and the knowledge and skills to respond to violence. 
Between January and March 2019, we launched a planning and training workshop to support local girls' clubs which was attended by over 20 schools and women's group members. 
Each of the schools have now hosted girls' safe spaces where girls have learnt about their rights, how to access support services and report violence. A total of 490 girls attended the safe spaces so far.
An SMS platform was developed where a survivor, their friend, family member or anyone else they trust, can send a free text message for help and report violence committed against them.     
By the end of May 2019, the SMS platforms had identified 80 reported cases between the three regions. 
 We have also mapped out plans to identify out-of-school girls in the three areas with the help of community partners. So far 450 out-of-school girls have been identified for support.
2. Training communities to raise awareness and help prevent violence against girls
We have been engaging with communities across the three regions to help bring about a change in attitudes and behaviours. 
We have met key influencers such as religious leaders, village elders, community watchdogs, paralegals, madrassa teachers and members of the boda boda riders' association - a motorbike taxi service accused of perpetrating violence against girls. 
Religious leaders committed to teaching their congregations about healthy relationships and the laws regarding violence against women.
Village elders pledged to be on the forefront of helping to seek justice for survivors. 
Significantly, the boda boda association representatives, most of whom were - according to the communities - perpetrators of violence themselves, signed up to raise awareness about VAWG among their members and to help report any perpetrators amongst them.
3. Strengthening local women's rights groups and building capacity of public-service officials
During the first three-months of 2019 we conducted a training workshop for 40 women from local networks who act as safe spaces and support systems for survivors.
The training enhanced members' understanding of VAWG and helped build their capacity to deal with cases of violence, deliver effective responses and document their efforts. 
We also set up a working group and ran activities to build the capacity of 38 local government and civil society officials such as representatives from the children's department, gender department, police officers, and other groups.
The aim of the activities was to ensure duty-bearers are able to address violence and be held accountable for responding effectively.
We set up objectives, laid out expected outcomes and gave recommendations for effective coordination between departments when tackling violence against girls. 
 
Boda boda operators join the fight against gender-based violence
Boda boda (motorbike) operators are informal taxi providers who ferry passengers on their motorbikes in Kenya. 
There are some communities who allege that boda boda operators are responsible for some of the violence against women and girls in Kenya. 
Communities are aware of operators taking advantage of schoolgirls, grooming them for relationships with other adult men, as well as preventing the perpetrators from being arrested.
Geoffrey Nyandega, the Secretary General of the Boda Boda Association of Ndhiwa promised to take measures to bring about changes in the association.
They promised that they will no longer prevent the arrest of members accused of perpetrating violence and will ensure that their members are trained on women's and girls' rights. 
Training the boda boda operators on women and girls' rights is key in reducing the cases of violence against girls in Kenya.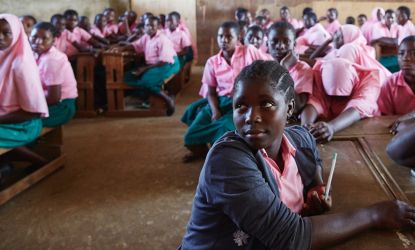 Increasing girls' confidence
An ActionAid girls' club in a school in Nyarongi, Kenya holds weekly forums and mentorship programmes to help girls increase their confidence. 
Winnie, one of the student leaders at her school believes her confidence has drastically increased since the programme began, improving her ability to stand up for herself. 
She believes that most girls in the school are from poor backgrounds and boda boda (motorbike) operators and sugarcane cutters take advantage of that by luring them with goodies that they cannot afford to buy for themselves.
Winnie wants to encourage more forums where girls can learn about their rights and make sound decisions on their own.
Our target for reducing VAWG - in numbers
Knowledge
50+ Safe Spaces supporting more than 5,300 girls
5,000+ copies of booklets educating girls about their rights
Awareness events with 8,000+ people
Solutions
60+ school and community debates on reducing VAWG
60+ debates with influential community members
Training
1,900+ women trained in supporting survivors
280+ public service officials trained (in the first year alone)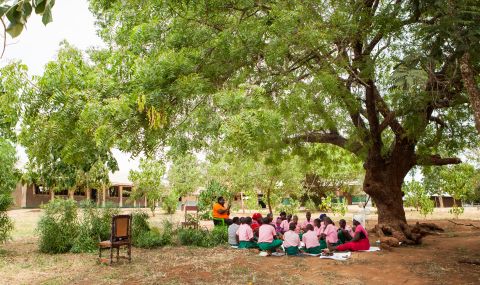 What is UK Aid Match?
The UK Aid Match scheme is funded by UK aid - the financial support the UK government gives to poorer countries to promote sustainable development, eliminate poverty and help people whose lives have been destroyed by conflict or disaster.  
UK Aid Match is a fund open to UK-based civil society organisations to run programmes in developing countries to help change the lives of the world's poorest and most vulnerable. It is designed to provide opportunities for the UK public to engage with international development issues and have a say in how UK aid is spent. 
How does UK Aid Match work? 
For every pound you donated to ActionAid's Not This Girl Aid Match appeal, the UK government also contributed a pound. This means your donation was doubled.
With your support we are able to help even more women and girls challenge abuse and make sure survivors get the support they need.
Penny Mordaunt, the former UK Secretary of State for International Development, said:
No one should have to live with the fear of violence, but shockingly, one in three women worldwide will experience it in their lifetime. For girls living in the world's poorest places, where crimes go unreported and the support networks aren't in place, the issue is exacerbated and the cycle of violence and poverty continues.

By doubling donations to Action Aid's Not This Girl appeal, we can help keep more girls in school, we can give them the voice they need to report violence and stand up for their rights, and we can help them to shape the future of their communities. Together, we can make gender equality a reality."
What donations were eligible for doubling? 
Donations were eligible for doubling from:
individuals who are residents of the UK. 

community groups and events, where the funding was not made on behalf of a private sector organisation. 

organisations such as rotary clubs, as long as the organisation is not-for-profit and all individual donors within the organisation were aware of the appeal purpose and the government match funding.

trusts, as long as each individual who owns the fund agreed to the donation being made during the appeal period. 
Donations from corporate organisations were not eligible for doubling.
Additionally, donations from foundations or trusts where the funds are administered by trustees on behalf of the owners were not eligible. 
Was the Gift Aid on donations doubled? 
No, only the donation itself was doubled. 
What about regular donations and existing direct debits? 
Existing regular gifts were doubled. However, if you chose to increase your regular donation in response to the Not This Girl appeal, the amount by which you increased this donation could be doubled. 
If you signed up as a new regular giver during the Not This Girl appeal, your donations will have been doubled for three months. 
How do we safeguard the vulnerable women and girls we work with? 
We have a zero-tolerance policy on any form of sexual harassment and misconduct as well as clear child protection policies in place aimed to protect the women and girls we work with.  
We also have a whistleblowing policy to encourage staff to come forward if they have any concerns and if an allegation is made, processes are in place to ensure immediate and decisive action is taken.
It's essential that ActionAid prioritises creating an environment in which people feel safe to report incidents that in any way make them feel uncomfortable or threatened.  Staff and the vulnerable people that we work with need to feel confident that our safeguarding policies will protect and support them. That's why we've been taking proactive steps to develop our safeguarding policy and procedures. In 2017 we employed an external safeguarding expert to develop and oversee this project. This includes compulsory training on the policy and procedures for staff. In addition, the policies and procedures we have in place are regularly reviewed to ensure they are fit for purpose.
ActionAid strives to create a world where women and girls have an equal voice and can claim their rights regardless of where they are born. We'll continue to be transparent and accountable, which is both vital for the communities where we work and for those who so generously support our work.
Can we be confident in these safeguarding policies and our approach? 
ActionAid has been taking steps for some fifteen years designed to root us firmly in the communities where we work. Even in humanitarian emergencies, we consistently give decision-making power to women in affected communities in planning, overseeing and evaluating the emergency response. 
While this does not make us immune to abuses, we believe it does help to promote a high standard of accountability and transparency. Building on these changes, we are committed to continuous improvement in safeguarding, particularly in the communities where we work.
How do we protect the children whose images are used in our publicity? 
ActionAid takes child protection very seriously and this includes ensuring that all the girls we photograph and video for our appeals are supported in telling their story. This means making sure it is safe for them, that they have emotional support and that they fully understand how their story will be used. For people under the age of 18, we also always gather the consent of a parent or guardian.  
In addition to gathering our content with strict levels of informed consent, we have also anonymised images to protect the survivors of violence, changed their names and removed any indications to their geographical location. In our Not This Girl appeal we have also used a child actress to help depict the experiences of her friends.
ActionAid does not pay people to share their stories. After open and respectful discussions with our local staff, people volunteer because they want to raise awareness of an issue, share their experience with others and/or have their voice heard.   
As a charity committed to helping people take control of their own future, we share the truth about situations and show real people in real situations. Wherever possible we let people tell their own stories in their own words, and emphasise individuality and real-life experience.
Why have we used the stories of young girls who have survived sexual violence in our fundraising campaign? 
We want to ensure that we are authentic in our campaigns and therefore work alongside women and girls in the world's poorest places to ensure they can share their stories, so their voice is heard loud and clear across our communications.
However, we are also mindful of the risks, and the personal trauma, that the women and girls we assist are dealing with. We work hard to tell these stories in a way that helps - and doesn't harm - the women and girls we work with.  We ensure that the people who feature in our campaigns and tell their stories have volunteered to do so; we never feature a person in our campaigns who doesn't want to tell their story, and we never push anyone to talk about her situation in a way that makes her uncomfortable. 
Finally, we use strict guidelines to protect the identity of the women, girls and families we work with whenever this is needed. 
Why did we launch this campaign at a time when there are questions about safeguarding in the humanitarian sector? 
Sexual exploitation and abuse is completely unacceptable in any line of work, and what we have seen in the last six months is that no one is immune. But it cuts especially deep in the charity sector because it contradicts the values and the standards to which we are all committed.
Now more than ever we need to use this moment to speak out, and encourage women and girls to reclaim their rights, end violence against women and girls, and challenge the systems and structures that condone it, so women and girls can fulfil their potential and live without fear. 
Top image: Celina, 25, is part of a basket weaving programme run by a local women's network in Kilifi County, Kenya. Sheldon Moultrie/ActionAid
Page updated 18 November 2021