Eight unique Valentine's Day gifts that last longer than flowers
28 January 2021
From just £10, our unique Valentine's Day gifts are a great way to show how much you care. They'll even last longer than roses!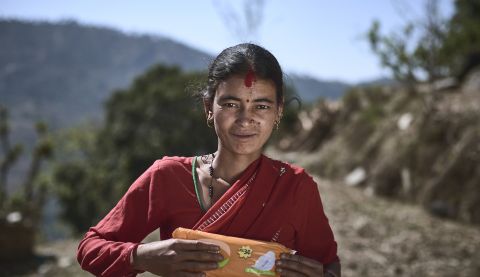 This Valentine's Day, why not celebrate with a gift that gives back? From just £10, our collection of extra-special charity gifts can make an enormous difference to the lives of women and girls.
Longer-lasting than roses, sweeter than chocolate and even more cute than a teddy, Gifts in Action are the perfect way to say 'I love you' - whoever you're shopping for!
Simply choose your gift, personalise your greetings card with a special message, and we'll pop it in the post for you - perfect for gifting during lockdown. With direct delivery, your gift recipient will also receive details about how your donation is making a difference.
Find more unique Valentine's Day gifts
If you're still looking for the perfect way to show how much you care this Valentine's Day, there's plenty more to discover in our full gift collection.
From education bundles to furry friends, these life-changing gifts are a thoughtful way to give back. And remember - a piglet might not smell like roses, but it'll definitely last longer!
Top image: Poulomi Basu/ActionAid
Read next
8 October 2021

7 July 2021

10 June 2021