Five ways to fundraise for Ukraine
4 March 2022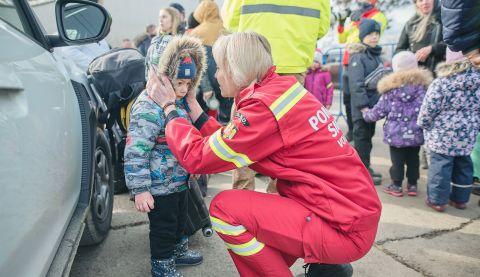 Over two million people have fled their homes to escape intense conflict in Ukraine.
With UN estimates that up to five million people may be forced to leave Ukraine due to the Russian invasion, it is set to become Europe's largest refugee crisis this century.
ActionAid is scaling up to provide emergency support and protection for those forced to flee to neighbouring countries.
You can help provide food, water and medical assistance by setting up a fundraiser today.
Here are our top five fundraising ideas to get you started.
How does your fundraising help?
At Ukraine's borders with Poland, Romania, Hungary, Slovakia and Moldova, huge numbers of women and children are arriving with only what they can carry.
In many places there are long waits to cross and scant facilities waiting for them on the other side, with temperatures dropping below freezing overnight. 
Your donations can help provide food, blankets and counselling for those urgent need.
£100 could provide emergency food for five people for one month. 
£150 could provide blankets for 12 families, to keep them warm. 
£300 could provide emergency food for six families for one month.
If you want even more inspiration for your fundraising, we have a lot more ideas to share with you. 
Top image:Romanian firefighters helping Ukrainians on the border with Romania. Photo: World Vision