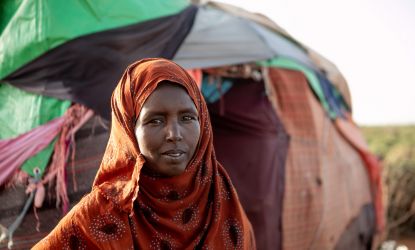 How essentials kits support women like Rahma
In Somaliland, thousands are living in overcrowded displacements camps due to climate change-related droughts and extreme weather.  
These can be difficult and dangerous places to live for women like 33-year-old Rahma and her children.  
"As a mother with several girls it's not easy to live in this camp, because if I send them to collect firewood I have a lot of worry," she told us. 
When we get a period, we can't afford to buy sanitary pads, so we use cloth." 
Thanks to ActionAid supporters, Rahma and her family received essentials kits, containing vital supplies like clean clothes, underwear, soap and menstrual products.
They also contain a torch to help women and girls move safely about the camp after dark.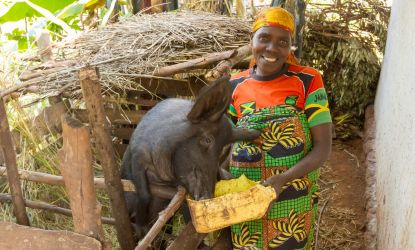 How animal gifts support farming women in Burundi 
In Burundi, 90% of the population depend on agriculture, but the lack of quality soil has made it difficult for farmers to grow crops. 
This means rural families are often unable to meet basic needs like food, clothing and shelter, and more than 40% of children drop out of school early.  
But thanks to ActionAid supporters, we supply farming families with livestock like a pig or goat, which are easy to raise and care for, and very productive.  
Goats and pigs produce quality manure, so farmers are able to improve their crop yields and help bring food security to their communities.
How coronavirus gifts help stop the spread of Covid-19 
Throughout the coronavirus pandemic, ActionAid supporters have helped to provide PPE, quarantine kits and WASH kits to equip frontline workers and help stop the spread of Covid-19 around the world. 
In the occupied Palestinian territory we have delivered vital supplies to women and girls and vulnerable groups including the elderly and people living with disabilities in the Gaza strip.
This has included food parcels containing enough sugar, cooking oil and rice for one month, along with soap, cleaning supplies, gloves and other PPE items.
Sawde and Hadra, sisters living in a camp for displaced people in Somaliland. Karin Schermbrucker/ActionAid
Page updated 13 November 2023