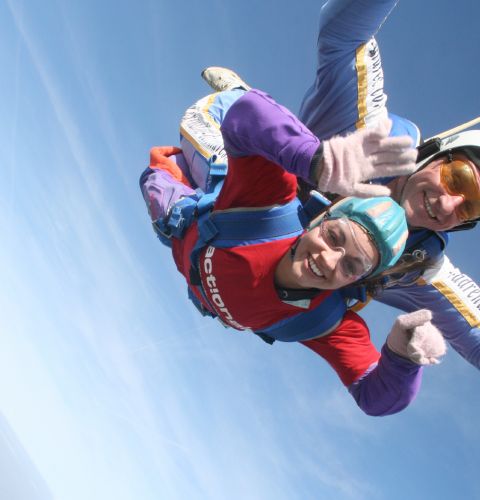 Skydiving
The ultimate adrenaline rush - sign up to take on a skydiving challenge with ActionAid.
Date

Multiple dates

Location

Scotland, Northern Island, South Wales, South East England, South West England, North West England, North East England, Midlands

Registration fee

£75

Sponsorship target

£395
Feel the buzz as you leap out of a plane at 10,000 feet!
And it's not just the sensation of the wind rushing past you that's making you feel so exhilarated - it's also because you're raising lots of money to support some of the poorest people in the world.  
Hurling yourself out of a plane is an unbelievably exhilarating experience which everyone must try! The ActionAid team helped me organise all sorts of crazy events to help raise the sponsorship - it was so worth it.

Drew Ritchie, ActionAid skydiver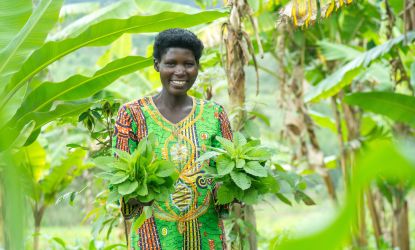 How your sponsorship helps
Meet Caritas. When Caritas became a widow she was forced to support her family on her own. ActionAid helped Caritas by training her in entrepeneurship, providing her with the skills needed to start her own business. 
With her training, Caritas is now economically stable and has invested in her own farming activities. She has been able to buy livestock, which has provided manure, and helped to increase the amount of food she can produce and sell. "I used to produce almost nothing, but now during farming season I employ 10 workers who I pay to support me with my farming."
Because of her increased income, Caritas has now been able to build a new house and installed a solar power system to provide her with electricity. Her two sons are now at school and she told us "With the support of ActionAid I have now gained self-respect at home and in my community."
Get free materials and advice
We've got lots of useful training and fundraising goodies to help you with your event.
Pay in your sponsorship money
Thank you so much for your incredible support – you are changing lives, for good.
Contact us
If you have any questions or need support with your fundraising, please get in touch. Email events@actionaid.org or call 01460 238 000.
Page updated 15 February 2022