Our Christmas card collection includes: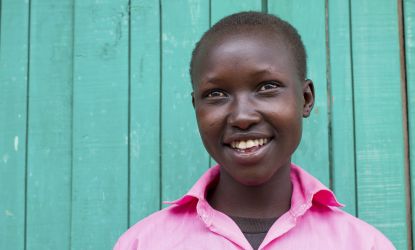 How your support makes a difference
When you buy a pack of Christmas cards with ActionAid, your donation could help change the life of a woman or girl like Abigail, from Kenya. 
Abigail ran away from school at the age of 13, because her family wanted her to undergo FGM. Luckily, she found safety at an ActionAid-funded safe house and school, which provides refuge for girls at risk of FGM and child marriage. 
Not only did Abigail find the support she needed, but she also helped her best friend Purity to find refuge, and avoid FGM. 
"Purity was my best friend. I didn't want her to go through FGM. I wanted her to join me in school," she told us. 
Your support could help fund ActionAid's work all over the world, helping girls to school, supporting girls to understand their rights, and ending violence against women.
Top image: Kristina and Krishla, from Nepal, have received coats and hats from ActionAid to help with the winter. Karin Schermbrucker/ActionAid
Page updated 26 July 2022