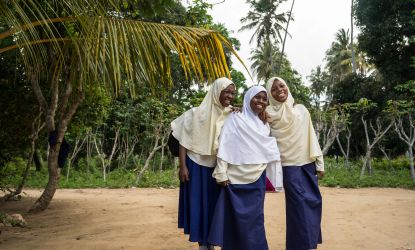 Girls' clubs tackle violence in Zanzibar
Zeinab, 10, lives in Zanzibar. More than one in 20 women in Zanzibar report experiencing at least one incident of sexual violence before the age of 18. Girls' clubs are a key way of tackling violence and supporting survivors. 
"We have a girls' club at school," says Zeinab. "In the girls' club we've learnt about children's rights – like children's rights to participate, children's right to get an education, and children's rights to be able to be heard.
"The best thing is when we sit together and talk about different things. When we sit together we talk about issues of violence and then there's a suggestion box where we can write anything that we feel or what we've gone through and then it really helps a lot."
Maryam, Zeinab's mum, says: "The girls club has helped the children a lot because after attending they come into the village and the community and they teach other children about the things that they've learned, like issues of violence."
Creating change through girls' clubs
The girls also build their self-confidence and leadership skills through the forums. These are crucial life skills that will help them to participate actively in their communities throughout their lives.
Developing these abilities also empowers them to promote girls' rights and challenge abuse. This ensures that the change doesn't stop with the girls themselves, but has a positive impact throughout communities. 
Girls' clubs promote girls' education in Nigeria 
Precious is a member of a girls' club in Nigeria. Through the girls' club, she is raising awareness of the importance of girls' education in her community. 
"I think the more girls we gather together the more power we will have," she says.
"One of the things we do in the club is to visit girls who have dropped out of school. We visit them and tell them about the importance of school and education. Some of my friends have dropped out of school because they don't see the benefits. Some of them have problems with their parents who don't understand why their daughters need to go to school and so won't find money for the school fees."
"My ambition is to be able to talk to a Nigerian politician and tell them the importance of girls' education in Nigeria. I want to explain the difference to them of educating girls and boys and why girls need more help because often their parents will pay the boys' school fees and not the girls'."
Top image: Abiba, 31, a programme officer for ActionAid Ghana (centre in a multicoloured dress) with members of a girls' club. Ruth McDowall/ActionAid