What: International charity ActionAid's maze, which will fill the space in front of Marble Arch, will bring to life how the global justice system is broken for women and girls affected by violence. 
Celebrity attendees: •    Pearl Mackie, Doctor Who actor•    Holliday Grainger, star of new BBC drama The Capture and current film Animals•    Charlie Webster, TV presenter who is a survivor of abuse and a campaigner•    More celebrity supporters to be confirmed.
Where: Marble Arch, LondonWhen: Thursday 29th August - 7am – 12pm Why: Following Women's Equality Day on Monday 26th August, ActionAid is asking people to walk around the maze to engage with the realities for women and girls around the world when they attempt to seek justice for violence perpetrated against them. This is part of the charity's Justice for Women campaign. 
Media opportunities: •    Photos (scissor lift available) and interviews with celebrity supporters •    Photo and video content of the public navigating the maze•    Interviews with ActionAid spokespeople including Ria Ryan, an 18 year-old ActionAid Community Campaigner•    B-roll video footage•    Further information, statistics and case studies.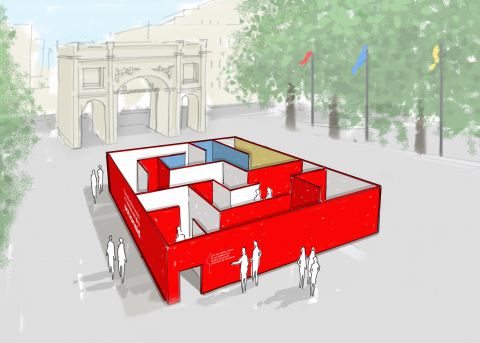 Following Women's Equality Day on Monday 26th August, ActionAid is building a 'Maze of Injustice' to support their campaign, calling for better access to justice for women and girls affected by violence. One in three women worldwide will experience violence in their lifetime. Yet in the UK and around the world, the odds are stacked against women and girls - many never get justice.
ActionAid supporter, TV presenter and campaigner Charlie Webster is a survivor of sexual abuse. Charlie is set to speak about why justice for women affected by violence is so important, and is a subject very close to her heart. 
Charlie Webster said: "ActionAid's 'Maze of Injustice' illustrates that justice is a basic human right that so many women and girls still don't have. I'm part of the charity's Justice for Women campaign because I know the damage it does when this right is taken away – it's so important we do all we can to change that."
An ActionAid survey revealed more than two thirds of women who have been sexually harassed did not report it to the police4 and 50% said it was because they believed it "would be pointless"5 . In the UK, 57% of women who said going through court was a negative experience felt they were blamed for what happened6 .
Barriers to justice include deep-rooted misogynistic beliefs, outdated traditions or laws and unaffordable legal costs. Set alongside information, statistics and case studies, these obstacles will be brought to life in ActionAid's 'Maze of Injustice' using mirrors, doors and dead ends.
Jean Mclean, Deputy Director Media, Campaigns and Public Engagement at ActionAid UK, said: "The maze of injustice may shock, but we wanted to show the very real barriers women face when accessing justice for crimes committed against them. Women around the world are so often cheated by the justice system - abusers are protected while survivors are punished. 
"In a week when are supposed to be celebrating Women's Equality Day, we hope that people will feel inspired to show solidarity with women and girls around the world and sign up to our campaign to demand justice for women, no matter where they live."

ENDS
For further information or interview enquiries, please contact the media team:  Frankie.harrington@actionaid.org / Ravneet.Ahluwalia@actionaid.org / Jess.Midwinter@actionaid.org  and/ or 020 3814 4913. If out of hours, please call +44 (0) 7753 973 486.

Notes to editors:

ActionAid is an international charity that works with women and girls living in poverty. Our dedicated local staff are helping end violence against women and girls and changing lives, for good. We won't stop until women and girls are out of danger, out of poverty and on track to create the future they want.