Sexual and reproductive health and rights of women and girls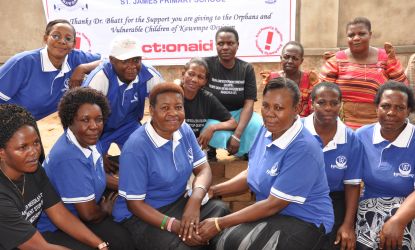 Access to family planning in Uganda
Nulu Nabunya, 46, (top left) lives and works in the slums of Kampala, Uganda, as the executive director of MAWDA, an ActionAid partner. She was concerned by the high rates of unplanned pregnancies amongst young people, so she founded the organisation in 1991 to provide access to family planning together with four other women. Today MAWDA reaches out to over 30,000 people, mostly women and vulnerable children, across Uganda.
Nulu's daily work ranges from tackling the impact of HIV/AIDS to legal aid for women. She says: "Today I will meet a group of community women about maternal health and family planning. I am the manager, I am supposed to be sitting at my desk, but there is no way I can do that. I need to be on the ground all day."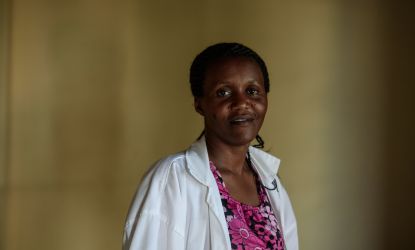 Providing sexual and reproductive health support in schools
Bernadine, 35, is a maths teacher who also helps to run the safe room in her school in Rwanda. The safe room is a place where girls can get sanitary pads and advice about periods and sexual and reproductive health.
"We created the safe room ourselves. Because of the problems we had before, problems with girls who got pregnant, and girls who missed a lot of school when they had their periods, so we tried to find a solution. 
"Girls who get their periods at school don't go home anymore. They stay at school because we give them all the things they need. More than five girls use the services in the safe room every day," Bernadine explains. 
The impact of restricting access to safe abortions
Around the world, many countries restrict access to safe, legal, affordable abortion, putting thousands of women's lives at risk. Recent studies estimate that 8–18% of maternal deaths worldwide are due to unsafe abortion, and the number of abortion-related deaths in 2014 ranged from 22,500 to 44,000.1
Most of these deaths occur in developing countries, with the highest number in Africa. Allowing women and girls access to information about their sexual and reproductive health and rights, including modern contraception and safe abortion, would prevent unplanned pregancies, STIs, and would save the lives of some of the poorest, most marginalised women and girls. 
It would also have a positive impact on gender equality more broadly, including women's economic rights. While there continues to be strong opposition to sexual and reproductive health and rights in many parts of the world, this poses a threat to women's health and lives.
The connection between domestic violence and sexual and reproductive health and rights 
One in three women globally will face violence in their lifetime. Violence against women and girls (VAWG) is intrinsically linked to the denial of access to sexual and reproductive health and rights – meaning that many women do not have control over their body and their fertility.
Domestic violence is the most common form of violence against women. It manifests itself in physical, sexual or emotional abuse as well as controlling behaviours by a current or former partner. This has a profound affect on women's abilities to prevent unwanted pregnancies and puts them at increased risk of sexually transmitted infections. 
Attempting to address sexual and reproductive health and rights without addressing violence against women will deny millions of women the right to full control of their bodies and lives. The links between them and the gender inequality at their root must be recognised. If it is not, progress on sexual and reproductive health and rights – including family planning - will be slow, unsustainable and will leave women and girls who experience violence behind.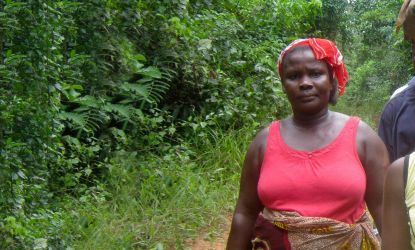 Changing attitudes in Liberia
Evelyn is a 39-year-old farmer. In 2012, she had one child and had decided that she only wanted two children. Her husband, however, wanted 10. 
He used violence against her: raping her, beating her and locking her up in her home. Due to her husband's controlling and coercive behaviour, Evelyn took contraception in secret, travelling to her friend's home each evening to do so. She had to attend a health centre in secret - as many providers demanded that women could only receive contraception with their husbands present.
"Most of the time when we refuse they can force us and it can be hard for us to report. My husband can force me to have sex even when I am sick," she said. 
When ActionAid Liberia came to her county - to provide information and work with grassroots women's rights organisations on sexual and reproductive health and rights - it was the first time she had had access to information and training on contraception. 
Now, thanks to the women's groups that she is a part of, a lot has changed in her community. "We can now go to the hospital freely to get family planning services. Nurses are no longer requesting our partners before they can give us treatment," she says. But there remains a lot to be done.
"Having too many children can make women fall behind. When you have many children you have to spend more time working hard to support the children; you can't spend time with your friends.  If I have many children I would not be able to help women resolve their problems and participate in community work," says Evelyn. 
Why FGM is a form of violence against women and girls
Female genital mutilation (FGM) is the partial or full cutting of a girl's clitoris and labia, for non-medical reasons. It is a form of violence against women and girls because it is used to control a survivor's body. 
The families of girls undergoing FGM can be unaware of the devastating risks of this practice for girls' health: FGM can cause severe bleeding, infection, infertility and even death. Between 100 and 140 million women and girls have undergone FGM worldwide.1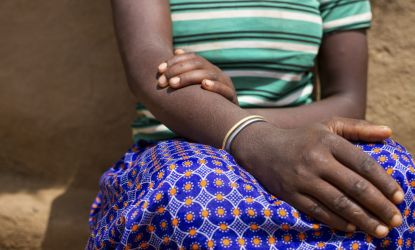 FGM puts girls' lives at risk
Christine underwent FGM at age 12 and bled severely. A year later she was married, despite her protests to her family. "I was young," she added. "I wanted to stay a little longer, to be older."
Christine became pregnant, but when the time came to deliver her baby, scarring from FGM and her age meant that she wasn't able to give birth naturally. She had to be rushed to hospital to have a caesarian section. "The doctors and nurses said that my child was big and I was small," said Christine.
She is against FGM happening to other girls in her community in West Pokot, Kenya, because of the risks it poses to their health during pregancy and to their babies. 
What is a child bride?
Child marriage is defined as a formal marriage or informal union before the age of 18. Girls are disproportionately more likely than boys to be married before this age. 
Early or forced child marriage puts girls at a higher risk of sexual, physical and psychological violence throughout their lives.2  It is a violation of girls' rights as, very often, marriage happens against the girl's will and she is physically and emotionally unprepared for sexual activity, pregnancy and child birth. 
Child brides often marry much older men and have limited power to choose whether they have sex and when to use protection and family planning methods. This leaves them vulnerable to forced sex and sexually transmitted infections (STIs) including HIV, and unplanned pregancies. Nearly 70 million girls worldwide have been married before the age of 18 - many of them against their will.3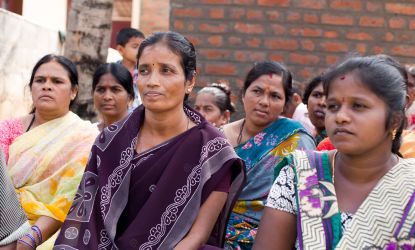 Child marriage in India
Rahi, 41, is a member of the co-operative women's group in her village in Karnatakar, India. They meet with the support of ActionAid to tackle a range of issues including child marriage. 
Before ActionAid and our local partner organisation Swaraj started work in the village, the average age of girls when they got married was 15 or 16 years old. Now, the average age has risen to 22. 
Rahi explains: "We were able to stop a wedding from a neighbouring village where the bride was under the legal age. The children from the other village were given the number of the child development manager who was contacted and the wedding was postponed. All of our community are behind the push to stop child marriage including the religious leaders."
Footnotes
1https://www.guttmacher.org/fact-sheet/induced-abortion-worldwide
1Prevention of violence against women and girls: what does the evidence say?, The Lancet: http://www.thelancet.com/journals/lancet/article/PIIS0140-6736(14)61703-7/abstract
2Girls Not Brides: 'Why is child marriage a form of violence against women and girls?: http://www.girlsnotbrides.org/why-is-child-marriage-a-form-of-violence-against-women-and-girls/
3Girls Not Brides: http://www.girlsnotbrides.org/about-child-marriage/
Top image: Women and children receive support at a clinic in Zimbabwe. Samantha Reinders/ActionAid
Page updated 26 January 2022