Women's rights organisations challenging violence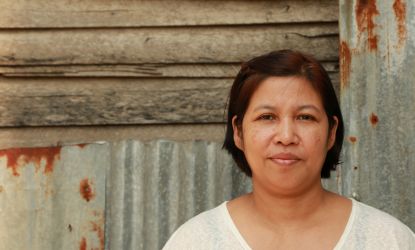 Women empowering women in Myanmar
Thuzar Tin set up the 'Women's Federation for Peace' (WFFP) in 2009, when she saw a rise in violence against women in her community in Myanmar after Cyclone Nargis.
With the help of volunteers, Thuzar Tin supports women in her community at risk from domestic violence and teaches them about their rights by running training and counselling sessions from her own home.  
Together, they train the women about their rights as well as to sew and make soap, helping them to set up their own small businesses and earn their own income. She says, "Everyone here is passionate about this work, but we need funds to survive."
Why investing in women's rights organisations is important
Investing in women's rights organisations means that women are empowered to change their own lives. It enables women to collectively challenge violence, and the gender inequality that underpins it. 
Women's rights organisations address the many forms of violence that women and girls face, in a holistic way. Their actions, from challenging social attitudes, to delivering frontline services to survivors, to political action, address the root causes of violence. They are able to tackle other forms of discrimination that increase women's vulnerability to violence, such as class, caste, ethnicity, age or sexual orientation. 
The women's group working to end FGM in Kenya
Susan Krop is the leader of the Kongelai Women's Network in Kenya, which fights to protect the rights of women and girls. In particular, this women's group supports girls who are at risk of female genital mutilation (FGM). 
"I went through FGM at the tender age of 12," Susan explains. "One of my friends bled and she got sick and the wound got septic.
"After going through FGM I didn't continue with my education. I dropped out of school and was married off. So this is one of the reasons that motivates me to ensure that young girls and other women don't go through what I went through."
Women's rights organisations are key to ending violence against women
Investing in feminist movements and women's rights organisations is the single most effective factor in creating progressive policies to end violence against women and girls.1  
The number of countries with domestic violence legislation has increased from 7 to 127 countries in the last 25 years.2  Collective action led by women's rights organisations has been pivotal in securing this change.3
At a global level, pressure from women's rights organisations and feminist movements helped secure a target dedicated to ending all forms of violence against women and girls under Sustainable Development Goal 5. 
Once these laws and policies are in place, women's rights organisations then play a critical role in ensuring that they are implemented and enforced, making governments more accountable for women's and girls' rights.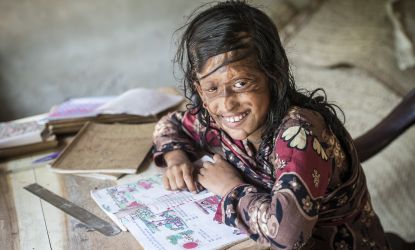 Supporting acid attack survivors in Bangladesh
When Sonali was just 18 days old, she and parents were the targets of an acid attack, as the result of a land dispute involving one of their relatives. Acid attacks are a common form of violence against women and girls in Bangladesh.
Thanks to the help of SoDesh, an ActionAid partner organisation, Sonali received the support she needed and was put in touch with the Acid Survivors Foundation, which helped her with counselling and medical bills.
With their help, Sonali is now in school where she likes to read books and her favourite subjects are maths, Bengali and English.
Footnotes
1Htun, M and A.L. Weldon (2012) The civic origins of progressive policy change: combatting violence against women in global perspective
2World Bank: Women, business and the law 2016, Getting to equal
3World Bank (2014) Voice and agency: empowering women for shared prosperity http://www.worldbank.org/en/topic/gender/publication/voice-and-agency-empowering-women-and-girls-for-shared-prosperity
Top image: Members from the Kongolai Women's Network, who fight to protect the right of women and girls in Kenya. Ashley Hamer /ActionAid