Why is Russia invading Ukraine? 
Today's Russia-Ukraine war is a conflict that dates back to 2014, when Russia invaded Crimea in the south of Ukraine (Russia continues to occupy it). 
Since then, Russian-backed separatists and Ukraine's armed forces have been fighting a war in the eastern regions of Donetsk and Luhansk, in which more than 14,000 people have died. 
President Putin has recognised the two regions held by the Russian-backed separatists as independent states, and ordered Russian troops there, tearing up a peace deal. 
Then in early December 2021, US intelligence officials determined that Russia was planning to deploy as many as 175,000 troops near Ukraine's border in preparation for a possible invasion. This began in February 2022. 
The Russian leader's initial aim was to overrun Ukraine and depose its government, ending for good its desire to join the Western defensive alliance Nato. 
But he has told the Russian people his goal was to "demilitarise and de-Nazify Ukraine", and to end genocide by Ukraine's government. 
Putin is known to deeply resent what he considers to be Nato's gradual shift east since the collapse of the Soviet Union in 1989, and is determined to block Ukraine from joining Nato. 
Map: Ukraine and surrounding countries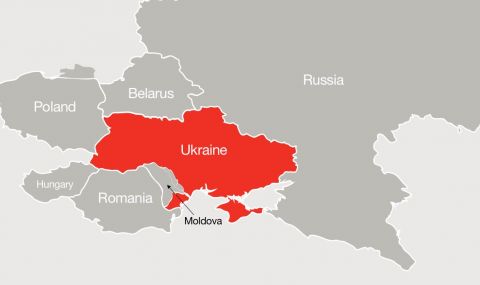 Latest: what ActionAid is doing to help refugees from Ukraine 
In Poland, ActionAid is working with Polish Humanitarian Action to develop a large-scale cash programme to provide cash to refugees, so they can choose how best to support themselves.
We're partnering with a women's rights organisation, Feminoteka, to support its work with survivors of gender-based violence, including funding for trauma therapists who can speak Ukrainian, Polish and English, and social workers who can provide referrals for jobs, accommodation and further support services.  
In Romania, we're partnering with an organisation to provide safe spaces and protect the rights of women, girls and young people.
We're also working with an organisation to deliver medicines and baby food to an orphanage in Ukraine, and planning work with partners to prevent trafficking and gender-based violence. 
This ranges from prevention at border entry points and accommodation sites to providing shelter and psychological counselling support.
What are the risks for women and girls? 
As in all emergencies, women and girls are likely to be hardest hit by this crisis, and face a specific set of risks.
As a feminist organisation, we are extremely concerned about the impact on women and girls, who are at an increased risk of gender-based violence, trafficking and exploitation during emergencies, especially when displaced from their homes.
For those who have stayed in Ukraine, life is dangerous. Women have been giving birth in underground metro stations as health facilities become inaccessible or too damaged to function. An estimated 80,000 women will give birth in the next three months in Ukraine, according to UNFPA1 – many of them without access to critical maternal health care.  
For some, childbirth will be a life-threatening rather than a life-changing experience.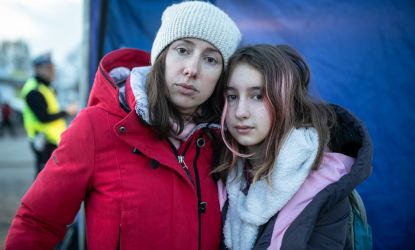 Help women like Maryia*
Maryia*, 35, and her 11-year-old daughter Natalia* fled from Ukraine after spending 12 days in a basement while their city was bombarded. They had to run for their lives and leave Maryia's husband behind. Maryia does not know when she will see him again.  
"We were under fire," she told us. "It was very scary, and I cannot describe it well."  
"I cannot say how long we are going to stay here, I do not know, but it is extremely hard. Our city is under heavy fire now. They want to wipe it off from the earth."  
"Many clinics, kindergartens, schools, and residential buildings have been destroyed. I do not know if our building has survived."  
"We support each other here - we try. It is extremely hard for the child now without a father."  
At this stage of our lives, it is important for us to have a peaceful sky; a peaceful place to live." 
*Names changed to protect identities 
DEC Ukraine humanitarian appeal for donations 
On 3rd March, member charities of the DEC launched a joint appeal to meet the needs of all refugees and displaced people fleeing Ukraine, including: clean water, emergency shelter, food, health assistance, sanitation and hygiene, protection and trauma counselling. 
£20 could provide emergency food for one person for one month 
£50 could provide blankets for four families, to keep them warm 
£100 could provide emergency food for two families for one month 
Footnotes
1https://www.unfpa.org/ukraine-conflict
Refugees at the Isaccea entry point on Romanian border. Alexandra Radu Stanescu/ActionAid